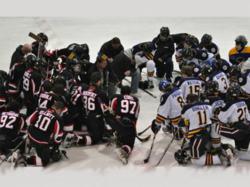 As they had done all night, the rivals dispensed yet again with expected game protocol, forgoing the traditional post-game handshake in favor of a group prayer at center ice for the dedicated hockey mom.
Aurora, IL (PRWEB) January 23, 2012
A youth hockey game that would, under normal circumstances, have shaped up to be a heated showdown between rival teams turned into an emotional moment on the Wednesday, January 18, 2011. Upon learning that the CSDHL Sabre Bantam team manager, Tamara Watkins had been critically injured in a motor vehicle accident on Sunday January 15th, both the Naperville Sabre Bantam team and the Huskies Bantam team adorned their sticks with stick bands emblazoned with the manager's favorite colors (blue and gold) which featured the victims' initials (TW) in tribute to the devoted manager. In a fitting game result, the two rivals ended the contest in a 2-2 draw.
According to the Naperville TribLocal, while Watkins was driving her oldest son to his hockey game on the morning of Sunday, January 15, she was critically injured when her vehicle was struck by another car driven by a 25 year old woman. The woman ran a red light at U.S. 30 and 127th Street in Plainfield, IL, striking Watkins' SUV and pushing it into a pole. The accident is currently under police investigation.
Watkins's husband and youngest son were notified of the accident while in Nashville, TN competing in the Music City Hockey Tournament. Watkins extensive head injuries required that she be transported from Rush-Copley Medical Center in Aurora to Loyola University Medical Center in Maywood where she underwent emergency brain surgery. She remains in ICU at Loyola in critical condition. Her son and his girlfriend were treated and released.
It was with heavy hearts that Sabre head coach, Mike Real, and his team stepped out of the locker room at Rocket Ice Arena three days later to face their closest league competitors, the Huskies. "The game was a pivotal one in terms of our league ranking," explains Real. "Just one point separated us from the Huskies in the standings. We should have been going after each other with everything we had. Instead, it turned into a unified outpouring of grief and a game with very few penalties. In the process, both teams demonstrated a level of sportsmanlike conduct I'll quite possibly never witness again."
The Naperville TribLocal concurred with Real, describing the actions displayed by the young competitors as "a show of incredible sportsmanship" in the midst of a "crucial regular season game." The cooperative team spirit would come to a touching conclusion as; the rivals forewent the expected game protocol of the traditional post-game handshake in favor of a group prayer at center ice for the dedicated hockey mom.
###