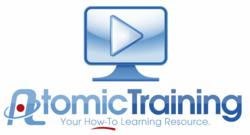 Little Falls, MN (PRWEB) January 24, 2012
Atomic Training, a leading provider of on-demand software training, announces surpassing 45,000 online software tutorials covering more than 140 common software applications. Atomic Training offers learning tools for Microsoft®, Adobe®, Apple®, and Google™ among others, and continually adds to its collection.
This milestone portrays Atomic Training's commitment to providing the most updated learning resources for clients. It intends to help users develop technology skill sets that increase efficiency in the workplace. Atomic Training's online help desk solution delivers answers to tech questions on demand, lowers company training costs and increases employee productivity by providing the exact training each employee needs.
Atomic Training is even offering a free ten day trial for its online help desk solution training with access to all of its video training tutorials. The company also offers affordable subscription services available for one month, one year or two year all access to training tutorials with 24/7 availability.
Atomic Training not only answers tech questions, but it can also transform an individual's performance. It offers an Effective Presentation Workshop Series that can improve visual presentations and generate effective communication to the audience. With social media marketing on the rise, small businesses can learn how to effectively use Twitter, Flickr, Wordpress and more.
For more information about Atomic Training visit their website http://www.AtomicTraining.com, or follow them on facebook.com/AtomicTraining and Twitter @atomic_training. Also, Atomic Training's YouTube channel, youtube.com/atomictraining, provides a sampling of their software training.
About Atomic Training:
Atomic Training provides on-demand software training and support tutorials to help businesses and organizations fulfill staff technology training and development goals. Atomic Training was established in December 2010 as a division of, parent company, Atomic Learning. Atomic Learning has been providing high impact e-Learning solutions for more than ten years to 16 million users in 45 countries.
Contact
Clay Moore
Cmoore(at)atomictraining(dot)com
866-259-6890 x221
###