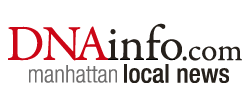 "I want to inspire New Yorkers to make 2012 their healthiest year yet."
New York, NY (PRWEB) January 25, 2012
New Yorkers who resolved to get in shape in the New Year are getting help from DNAinfo.com; Manhattan's leading neighborhood news source designated January "Manhattan Wellness Month," providing New Yorkers with a central source for healthy living ideas and activities. The website currently features fitness news stories, a calendar of healthy events, and deals from local businesses catering to health and wellness.
Manhattan fitness specialist Kristi Molinaro, who created the 30/60/90® interval class that modernized group fitness in NYC, provides weekly workout tips tailored to life in the Big Apple in her "Fitness Insider" column. "I want to inspire New Yorkers to make 2012 their healthiest year yet," says Molinaro. "My column will also discuss the latest fitness crazes to hit the city and exercises that can be done in the tiniest studio apartment."
Molinaro's first column included her favorite health tips, such as:
1. Keep alcohol and desserts to just twice a week. If you eat 'clean' the other five days, you can afford a little indiscretion in your diet.
2. Add "intervals" to workouts. Studies show that working past your comfort zone, no matter what your fitness level is, can elevate metabolism for up to 36 hours.
3. Take a yoga or Pilates-style class to help de-stress. Increased levels of cortisol (the stress hormone) have been shown to add inches to your mid-section.
4. Hydrate, hydrate, hydrate. Often people think they're hungry when they're actually dehydrated.
5. Motivation follows action. When you're sitting on the couch feeling unmotivated, force yourself to get up, get into your workout clothes and out the door.
Leela de Kretser, DNAinfo.com's Publisher and Editorial Director, says that, "Since many New Yorkers pledge to improve themselves in the New Year, we are spotlighting resources like gyms, nutritionists, health food stores and spas throughout January," adding, "Our website enables visitors to search for a particular fitness class, such as Pilates or yoga, as well as events, deals and doctors by neighborhood."
DNAInfo.com lists participating retailers offering health and wellness deals, including:

Acqua Beauty Bar -- 7 East 14th Street
Concerned Dental Care -- 30 East 40th Street #207
Drive 495 -- 495 Broadway #2
Harlem Cardiology -- 1787 Madison Avenue, Suite 50C
Mind over Matter -- In-home
Next Generation Dental -- 5 West 71st Street
NYC Cardiovascular -- 1787 Madison Avenue, Suite 50C
NYC IVF -- 400 East 56th Street
Osteopathy New York, P.C -- 44 East 12th Street, Suite MD4
Pilates Reforming NY -- Four convenient locations
Skin Laser & Surgery Specialists -- 115 East 57th, Suite 710
Skin Thera P -- 301 East 81st Street
Townhouse Spa -- 39 West 56th Street
Visit DNAinfo.com's health and wellness page here: http://www.dnainfo.com/promotions/wellness-month
About DNAinfo.com
DNAinfo.com is New York's leading neighborhood news source, delivering up-to-the-minute reports on entertainment, education, politics, crime, sports, and dining. Their award-winning journalists find the stories - big or small - that matter most to New Yorkers. The inspiration, funding, and strategic vision for DNAinfo.com come from entrepreneur and TD Ameritrade (AMTD) founder Joe Ricketts.
# # #