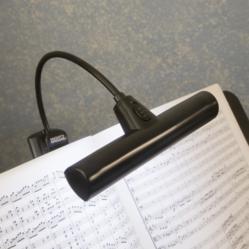 A sophisticated yet compact, 6 LED light that delivers perfect, worry-free performances for musicians.
Santa Barbara, CA (PRWEB) January 20, 2012
Mighty Bright, designer and manufacturer of innovative LED lighting products, announces the addition of the Encore LED Music Light to the company's line of modern LED lights for musicians, at NAMM 2012, the premier conference and tradeshow for musicians, being held at Anaheim Convention Center in Anaheim, CA, January 19-22, 2012.
Mighty Bright's Encore LED Music Light, inspired by Mighty Bright's popular LED Orchestra Light, is a sophisticated yet compact, 6 LED light that delivers worry-free performances for musicians. The Encore LED Light is equipped with two brightness levels to match playing and venue needs. Each of the 6 high-performance LEDs lasts 100,000 hours, and the Encore clips on to any music stand. The Encore's integrated fin shields audience members from the 28 bright white lumens the light produces, keeping the audience focused on the performance. The light comes with three AAA batteries and an AC power supply to ensure the show will go on, regardless of the venue's capabilities
Also being launched by Mighty Bright at NAMM 2012:

Mighty Bright's unique HammerHead LED Light for Musicians: Features a trim design with a flexible gooseneck and a hammerhead-shaped light bar packed with 6 bright white LEDs—enough to spotlight two full pages of sheet music or a large mixer board.
Mighty Bright's DJ series 2 LED USB Red Light provides subtle and targeted lighting for DJs and professional sound technicians.
Encore LED Music Light features:
Six bright white energy-efficient LEDs cast 28 lumens
LEDs never need replacing
Each LED lasts 100,000 hours
Two brightness levels
Precisely engineered optical grade lens spreads light evenly
Padded clip opens extra wide
Durable travel bag (included)
Adjustable gooseneck holds the light in place
Light easily folds for convenient storage
Powered by 3 AAA batteries (included)
AC adapter with 13 foot / 4 meter power cord (included)
Visit Mighty Bright at NAMM
Don't miss Mighty Bright at NAMM 2012. Visit Mighty Bright at booth #1525 (Hall E).
About Mighty Bright
Mighty Bright designs and manufactures innovative LED light products for consumers and professionals. Mighty Bright integrates high quality materials and intelligent design with the latest in LED and optical technologies at an affordable price. For more information, contact Mighty Bright at 800.922.3233 or visit http://www.mightybright.com.
###