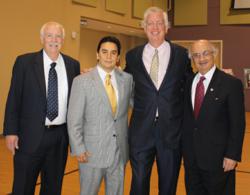 When you support SA Youth, you are supporting the future of our community
San Antonio, Texas (PRWEB) January 21, 2012
SA Youth, a San Antonio based non-profit that is dedicated to the empowerment of youth through drop-out prevention and recovery programs, has honored Generations Federal Credit Union and its CEO, Tim F. Haegelin with the SA Youth Briscoe Friends of Youth Award. Generations and Haegelin were honored along with San Antonio businessmen Gordon Hartman and Louis Cardenas.
"SA Youth has done so much over the years for the children of our community through their after-school programs, skills and job training, and dropout prevention efforts," said Tim F. Haegelin, Generations president and CEO. "So when you support an organization of this nature you are supporting the future of our community. These children will go on to become productive adults who will in turn give back to their families and their neighborhoods."
The annual awards program honors companies and individuals who have continually given of their time and resources to SA Youth and the children they serve. The 72-year-old credit union was the recipient of the Corporate Friend of Youth award. The luncheon was held at Morgan's Wonderland and was hosted by honorary event chair Harvey Najim.
"Tim is very deserving of this award and we are honored to present him with the Corporate Friends of Youth Award. We will be forever grateful for all he and Generations Federal Credit Union does for our community," said SA Youth CEO, Cynthia Le Monds.
Past honorees of the Friend of Youth Awards include Red and Charlene McCombs, Charlie Amato, USAA and Barbara Gentry, Chuck Toudouze and Family, Valero Energy, Governor Dolph Briscoe, Mayor Phil and Linda Hardberger and Harvey E. Najim.
"I think it's important to reiterate that this award wasn't just for me. This is a corporate award and it really recognizes all our staff here at Generations. Over the years they have made monetary donations, collected clothing, bought toys... you name it, our staff has done it. It's a true testament to the very giving nature of our wonderful staff and their desire to really make a difference in the lives of children in our community," Haegelin concluded.
###