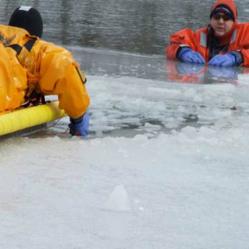 If you plan to go out on ice never go alone...
(PRWEB) January 23, 2012
The big question that comes up regarding winter sports is "When is the ice safe to walk on?" It's common knowledge that water begins to freeze at 32 degrees Fahrenheit. However, there is no way to accurately know where and when the water will begin turning to ice when the temperature dips below 32 degrees, and there is no way to accurately predict how thick the ice will get. To say that ice is unpredictable is a grave understatement. Walking on ice should always be taken seriously and with great care.
When coming into contact with ice, whether on a lake, pond, river or similar body of water, it is important to always keep in mind a few safety precautions. One should never go out onto the ice alone, nor consider any ice 100% safe. Areas where the ice has been identified as "safe" for the purposes of ice fishing, skating, etc. have been checked by safety officials as the least dangerous places for these activities, and such activities should never extend beyond the designated safe zones. Any areas that appear to be unsafe or unstable should be reported immediately. Snow-covered ice can be particularly dangerous as snow acts as insulation that can affect the thickness of the ice.
In the event that someone falls through the ice, every effort should be made to remain calm and clothing removal is not recommended. It is recommended that victims having entered the water turn toward the direction of entry, hands should be placed on the unbroken ice surface and feet kicked to push out of the water onto the ice. Ice picks or similar tools can help anchor a point to aid rescue. Once out of the water and on the ice, rolling or sliding across the ice until reaching safety is recommended. Attempts to stand on ice could result in another icy plunge.
"If you plan to go out on ice never go alone and carry some safety supplies with you like rope, webbing or some ice rescue tools." Said Fire Chief Donald Colarusso, a firefighter with over 24 years experience and one of the nations' leading suppliers of firefighter gear.
If exiting the water isn't possible remaining calm to conserve energy and calling for help is the only option. Bystanders that witness someone falling through ice should not attempt go out onto the ice. Calling 911 should be the first step, followed by advising the person in danger as per the instructions above. If possible an attempt can be made to calmly extend a long object toward the victim, such as a tree branch, boat oar, ladder ski or ski pole.
Alternatively, objects like rope, webbing, jumper cables or something similar can be thrown toward a victim. If this isn't possible waiting for rescue workers is the only other option.
When planning to go out on ice, it is always advisable to have the proper safety gear on hand. Some of the recommended items besides warm clothing that can reduce the dangers associated with ice include a flashlight, personal flotation device (PFD), ice rescue throw bag, ring buoy, ice pick, crampons and/or water-activated flash lights.
All Hands Fire Equipment is a leading supplier of ice rescue gear and water rescue equipment. They are also well known as expert trainers for many commonly used fire tools such as Petzl Exo Firefighter Escape Systems and are suppliers of PPE including Fire Boots and Fire Helmets to Firefighters and Public Safety Officials worldwide.
###