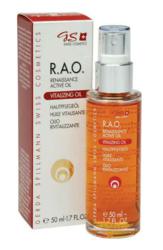 Formulated with Sesame Seed Oil, Orange Oil, Lemon Peel Oil, Citrus Fruit Oil, and Vitamin E
(PRWEB) January 31, 2012
Gerda Spillmann Swiss Skin Care & Cosmetics, which combines both traditional, time-tested formulas and cutting edge technology, is bringing to the consumer the Renaissance Active Oil, R.A.O., in a new, eco-friendly, easier-to-use Pump Packaging.
This remarkable combination of 100% pharmaceutical grade ingredients includes a blend of highly refined essential oils and a refreshing, natural citrus scent. Formulated with Sesame Seed Oil, Orange Oil, Lemon Peel Oil, Citrus Fruit Oil, and Vitamin E the R.A.O. promotes moisture retention and acts as a barrier to harmful environmental irritants. The use of essential oils allows R.A.O. to be a non-greasy, fast absorbing formula that will not leave your skin feeling heavy or oily. Individuals with severely dry, mature or damaged skin can begin to see a balanced, moisturizing effect on their skin after just the first application.
Renaissance Active Oil - Retail Value $51.50
Visit http://www.GerdaSpillmann.com or call us at 1.800.282.3223
Marketing(at)GSskincare(dot)com
The new Eco-Friendly packaging, can be returned to any recycling facility, while maintaining an air-tight seal to keep R.A.O. from being contaminated with other products, dirty applicators or impure airborne particles.
# # #