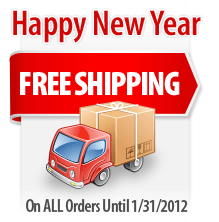 We take care of our customers from the first time they visit our site all the way through to receiving their medication
Tempe, AZ (PRWEB) January 22, 2012
It's always amazing how fast money leaves the bank account around the holidays. Now that the presents are unwrapped and the New Year's party is over, it may seem like the wallet is a little lighter than it should be. AccessRx.com, a top-ranked prescription drug facilitator, is here to combat the spending blues and ring in the New Year by offering free shipping on all medications.
As an online facilitator of lifestyle medications like Viagra and Cialis, AccessRx.com offers the lowest prices online and is now giving every customer free priority mail shipping through the month of January. That means any medication ordered through the site will be in the customer's hands within three to five business days -for free.
"It's a new year and we want to say thank you to everyone that uses AccessRx.com by starting 2012 off with free shipping," AccessRx.com's Director of Marketing Rich Bernstein said. "There is no coupon code to mess with, just go to our website and select the free shipping option at the checkout."
This new deal will save customers $13.95. Add that savings to the already low prices offered by AccessRx.com and people can start putting money back into their wallet.
"Seeing a doctor and traveling to a pharmacist takes time away from work and adds to the cost of getting a prescription," Bernstein said. Trained medical professionals at AccessRx.com can people get the prescriptions they need online. "Our medications are still cheaper than a pharmacy, plus with AccessRx.com there is no lost wages, no trip to the drug store and now, no shipping cost."
As always, AccessRx.com will mail the medications in discrete packaging. "We take care of our customers from the first time they visit our site all the way through to receiving their medication," Bernstein said. "We have built a strong reputation as a trustworthy company and we'll do everything we can to make sure every visit to our site is a convenient and pleasurable experience."
A banner on the AccessRx.com website will advertise the new shipping deal. The offer applies to all of the medications that AccessRx.com offers, which is more than two dozen name brand medications.
About AccessRx
AccessRx.com has served more than 500,000 satisfied customers over the course of 12 years. Based in the U.S., the internet facilitator provides only FDA-approved, brand name medications such as Viagra, Cialis and Levitra online.
AccessRx.com has integrated social media into their presence, so please be sure to follow AccessRx.com on Twitter and AccessRx.com on Facebook.
# # #