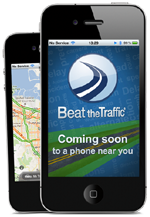 Macworld is always a fun and exciting event – but this year, it's a special opportunity for us to thank our fans face-to-face for their amazing support
Santa Clara, CA (PRWEB) January 23, 2012
Beat the Traffic®, a leading provider of real-time traffic information for broadcast media and mobile devices, will exhibit the latest version of its highly acclaimed Beat the Traffic app for the iPhone at the Macworld | iWorld 2012 Conference & Expo being held January 26-28 at the Moscone Center in San Francisco. Featuring a new design and new tools for helping motorists reach their destinations quickly and safely, Beat the Traffic 2.0 will join other new iPhone, iPad and iPod innovations on display at the Mobile Apps Showcase.
Since launching in 2009, Beat the Traffic for mobile has become one of the most popular apps in history with over 1.8 million downloads. It is consistently among the top 10 traffic apps in the iPhone App Store and steadily averages 4.5 stars in user reviews. In addition to positive reviews on NBC's Today Show and in The Wall Street Journal Online, Fox News Tapped-In, O'Reilly's "Best iPad Apps," Lifehacker and others, Beat the Traffic has also garnered multiple nominations as the best mobile traffic tool on the market.
"Macworld is always a fun and exciting event – but this year, it's a special opportunity for us to thank our fans face-to-face for their amazing support," said Andre Gueziec, CEO of Beat the Traffic. "Our development team is looking forward to meeting current and new Beat the Traffic users, answering all their questions and letting them 'test drive' our most powerful Beat the Traffic app yet."
Available for free for the iPhone and iPad, Beat the Traffic lets travelers instantly view real-time traffic conditions – including accidents, traffic congestion and roadwork delays – and adjust their travel plans if necessary, saving time, fuel and frustration. Recently updated with new interactive maps and additional surface street details, Beat the Traffic also lets motorists retrieve travel times and live camera views. Even more tools, such as personalized traffic reports and saved routes, are available for a small subscription fee.
Also on display at Macworld | iWorld will be Drivee, Beat the Traffic's new mobile app for the iPhone that provides motorists with real-time feedback on their fuel usage as well as the environment impact of their driving habits, which they can share on Facebook or Twitter. Developed in conjunction with leading academics in the field of sustainable transportation, Drivee is available at no cost on iTunes and on the iPhone App Store.
At Macworld | iWorld, Beat the Traffic's solutions will be on display at Booth 818
About Beat the Traffic
Based in Santa Clara, California, Beat the Traffic® is the fastest growing provider of vehicle traffic reporting solutions in North America. Over one million motorists throughout the U.S. and Canada have downloaded Beat the Traffic's mobile applications, and the Beat the Traffic 3D system and software is currently used by dozens of television stations, cable providers, and newspaper groups for on-air, online and mobile traffic reports. Acclaimed for its visually-striking graphics, simple setup and user-friendly interface, Beat the Traffic is a recipient of the TVTechnology STAR Award as well as Television Broadcast magazine's Top Innovation Award. As the only independent provider in the industry, Beat the Traffic has sustained its rapid expansion via media affiliates by maintaining a relentless focus on technical innovation and state-of-the-art data modeling, coupled with the tools, service, and personalized attention the media needs to deliver a distinguished product in an increasingly "me too" environment. Triangle Software LLC, the parent company of Beat the Traffic, is a National Science Foundation funded early innovator in traffic prediction and presentation science. Beat the Traffic technology is protected by U.S. Patents Nos. 6,989,765, 7,161,497, 7,221,287, 7,375,649, 7,508,321, 7,557,730, 7,610,145, 7,702,452 and 7,880,642 and other pending patents. For more information visit http://www.beatthetraffic.com or http://www.trianglesoftware.com; watch our videos at http://www.youtube.com/beatthetraffic; or follow us on Twitter at http://www.twitter.com/btt3d.
###