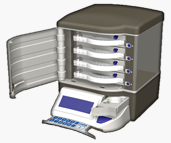 Pittsburgh, PA (PRWEB) January 27, 2012
With changes in Medicare that will take effect in October 2012, hospitals might not be receiving reimbursement for patients who need to be readmitted within thirty days of being discharged. Readmission is common for elderly patients with chronic conditions such as diabetes, COPD, and CHF, but readmission can also be a concern for patients who are trying to adjust to life at home after a major medical episode. Learning new medication routines with multiple prescription drugs can be challenging for anyone – especially senior citizens.
Automated Security Alert is a Pittsburgh-based healthcare company that offers two models of locked, monitored medication dispensers - MedPro the MedPro Plus - that can be easily programmed by caregivers to dispense the correct dose of medication at the right time. If a patient doesn't take their medication after the timed alarm sounds, ASA can take action by contacting the patient and their family or caregivers.
Medication errors can be catastrophic – and sometimes deadly. A monitored medication dispenser can prevent a tragic mistake that could require hospitalization. Jeff Pigott, Director of Products and Services commented, "Using a monitored medication dispenser can help keep patients healthier by delivering the correct medications on time. We've actually seen our customers' health improve after adding a medication dispenser because they're getting the right doses."
Automated Security Alert, Inc., has provided freedom and security since 1988 to over 60,000 consumers through the use of technology and services that enable seniors, physically-challenged persons and recovering patients to maintain an independent lifestyle in their homes. ASA's creative, dependable solutions include medical alert systems(personal emergency response systems); fall detection systems; and medication management systems, including electronic pill dispensers and monitored medication dispensers.
For further information, please contact Matthew Couillard at 1.800.338.7114.
###