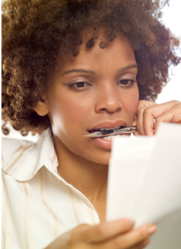 Twenty-five percent (25%) of the credit reports surveyed contained serious errors that could result in the denial of credit. U.S.PIRG
Seattle, WA (PRWEB) January 24, 2012
Credit scores are an integral part of the financial portfolio for Americans. The score wields power on everything from employment opportunities to auto insurance rates and deposits on cell phones to qualifying for a home. Below are four of the most common problems and solutions credit counselors with American Financial Solutions see when contacted by people trying to improve their credit score. Remember that while a score can drop in a relatively quick period of time, it takes longer to bring it back up. There is no quick fix for credit reports and credit scores.
[1}Pay down balances. Next to missing payments, the best way to damage a credit score is to use more than 30% of the credit limit. If someone is using a credit card like a debit card and charging all purchases (usually to earn reward points or miles), paying the balance down before a major purchase using credit is a must. The card should be paid down to 30% of the credit limit at least 30 days before making the loan application.
As a general rule, it is best to keep credit card charges to a level you can comfortably pay back, in full, each month. If the credit score on your credit report seems stuck in a rut, look at those balances. Work to get them to 30% of the available limit and you will probably see that score increase.
[2]Add positive information. Adding positive information to your credit report can also improve your credit score. The most efficient way to do this is to open a new credit card. The new account can be an unsecured card or a secured card (a credit card backed by your money). Remember when using this card, the 30% rule from above still applies.
Also note that this method does not work if you already have four or more credit cards and the act of applying for credit cards could bring your credit score down.
[3]Another way to potential increase your credit score is to monitor your credit report. According to a study of consumer credit reports conducted by the U.S. Public Research Interest Group (U.S.PIRG), "Twenty-five percent (25%) of the credit reports surveyed contained serious errors that could result in the denial of credit, such as false delinquencies or accounts that did not belong to the consumer" When reviewing the credit report, look for anything you do not recognize or that appears incorrect. For a complete list of what to review use American Financial Solution's Credit Report Checklist.
[4] Pay bills on time. Missing payments can bring down a credit score very quickly, but it takes time to recover from late payments. In general, a the score considers the last 24 months the most relevant in your payment history. If you got behind, get current and keep making those payments. If you do not have any bills that show on a credit report, continue to pay so nothing gets sent to collections and then reported to your credit report.
Managing credit reports and credit scores can be daunting. There are no quick fixes for problems with credit. It takes time, hard work, and dedication to overcome the credit obstacles. There are other options that may also help people bounce back from damaged credit. These include debt consolidation plans, debt management plans, credit counseling services and more. To learn about all of the options and get help organizing, contact a certified credit counselor today.
American Financial Solutions (AFS) is a non-profit 501(c)3 financial education and credit counseling agency that helps people find solutions for managing their money and changing their financial lives for the better. Since 1999, AFS has helped over 750,000 individuals across the United States through one-on-one counseling, financial education classes, or the use of debt management plans. AFS is a member of the National Foundation for Credit Counseling (NFCC) as well as the Association for Independent Consumer Credit Counseling Agencies (AICCCA). AFS is also accredited by the Council on Accreditation (COA) and has an A+ rating by the Better Business Bureau. For more information, please visit http://www.myfinancialgoals.org. Find us and like us on Facebook (facebook.com/AmericanFinancialSolutions) or follow us on Twitter (twitter.com/MoneyTips4You)
###