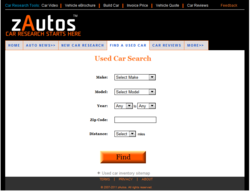 Irvine, Calif (PRWEB) January 21, 2012
Consumer car research website zAutos.com presents its web directory to help users find a 2007 Toyota for sale. zAutos.com has a wide selection of over 63,000 used Toyota vehicles for sale and over 5,000 Toyotas from the 2007 model year. Some of the most popular Toyota cars for sale include the 2007 Toyota RAV4, 2007 Toyota Avalon, and 2007 Toyota Camry. All of these cars and thousands more from every brand and model are available in the used car application located under the "Find a Used Car" tab on zAutos.com.
With over 1 million used cars for sale, zAutos.com can help each consumer find their perfect vehicle. Even for those who don't know exactly what they are looking for, zAutos can guide shoppers in the right direction towards finding their next car.
In the used car application, viewers can choose the year, make, and model of their desired vehicle. Search results can be narrowed further by location, price, and preferred vehicle mileage. Shoppers can then click on the specific vehicles that match their results to find a comprehensive list of vital vehicle information. This page will include a gallery of images, a detailed list of features, the seller's contact information, a map of the vehicle's location, and an available history report.
With a wide selection of vehicles and a user-friendly format, zAutos.com is the easiest way to find available used vehicles for sale on the web.
zAutos.com is also a consumer's complete resource for finding new cars, with over 4,000 instructional car videos, 10,000 vehicle eBrochures, vehicle quotes, and the new Build Car application allowing users to create their own custom cars. The website also follows the latest auto news and provides in-depth car reviews. Through these features, zAutos is rapidly developing innovative ways to improve the car research experience for its viewers.
###