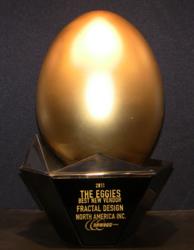 "We are grateful for their continued support and the positive impact they have made on our business last year." - Dr. S.C. Lee, CEO of Newegg North America
Dallas, Texas (PRWEB) January 23, 2012
Fractal Design, a leading manufacturer of computer cases, has announced that online retailer Newegg Inc., has awarded Fractal Design North America Inc. with an Eggie Award for Best New Vendor. The Eggie Award recognizes the outstanding contributions made by Newegg's vendors and customers in 2011 and was presented at the Newegg Eggie Awards event at CES 2012 in Las Vegas.
Fractal Design computer cases have garnered numerous industry accolades and praise for their minimalistic Scandinavian design, attention to detail, and focus on value. Following successes in worldwide markets, Fractal Design products were launched in North America in 2011.
"We are honored to receive this prestigious award from our partners at Newegg," said Paul Heimbuch, President of Fractal Design North America. "With a reputation for unparalleled attention to customer satisfaction and top-level service, Newegg was most certainly a key asset in the successful launch of our product line in North America."
"The Eggie award is our way of thanking our most valued partners and customers for their contributions to our company," said Dr. S.C. Lee, CEO of Newegg North America. "We are grateful for their continued support and the positive impact they have made on our business last year."
About Fractal Design -
Fractal Design, based in Gothenburg, Sweden has become one of the leading manufacturers of PC cases, power supplies and cooling products. The company was founded in 2007 by a team of Swedish engineers who have carefully listened to the needs of customers. The company's PC cases have won multiple awards and are renowned for combining high quality workmanship with striking design features, superior performance and excellent value.
About Newegg Inc.
Newegg Inc. is the second-largest online-only retailer in the United States. It owns and operates Newegg.com (http://www.newegg.com) which was founded in 2001 and regularly earns industry-leading customer service ratings. The award-winning website has more than 16 million registered users and offers customers a comprehensive selection of the latest consumer electronics, detailed product descriptions and images, as well as how-to information and customer reviews. Using the site's online tech community, customers have the opportunity to interact with other computer, gaming and consumer electronics enthusiasts. Newegg Inc. is headquartered in City of Industry, California.
###