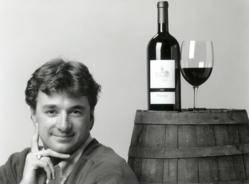 Young winemakers in Italy believed in terroirs that had been neglected and thus initiated a sort of Renaissance of Italian wine
Verona (PRWEB) January 21, 2012
The following two companies are good examples of nationally and internationally critically acclaimed wineries: Arnaldo Caprai (Umbria) and Azienda Agricola Castelluccio (Emilia-Romagna) have achieved in very few years what others take many generations.
When Marco Caprai took over the management of the young cantine Arnaldo Caprai (Umbria) in 1988, he aimed at producing the best wine possible of the indigenous variety Sagrantino. He heavily invested in innovation and research, which led to greater recognition and consumption of Sagrantino. Its DOCG status in 1992 would not have been possible without visionary winemakers like him. When asked about the difference between a young winemaker and an established one, Marco Caprai thinks that it is "the unconsciousness! A young winemaker has to fight really hard to find his own niche in such a competitive market. In order to be noticed, he has to offer something really special. A well-established winemaker has to make sure the consumer won't get tired with his wines. If you want to start a new winery, I wish you all the luck. You will be needing it." His vision to improve the company's marketing strategy and move to a "360-degree sustainable wine production" resulted in a 10% increase turnover in 2011. The winemaker's commitment to true innovation is also exemplified by a complete overhaul of the winery in 1997, with the help from various universities. In fact, in 2009 he dedicated 245 bottles of wine to the Nobel-prize winner Rita-Levi Montalcini and raised some €23,000 for her foundation. He is convinced that in 2012 people will be "even more consciousness about sustainability, new products and biodiversity. Wine enthusiasts will evaluate more and more the quality/price ratio."
Another example of dynamic winemaking is Azienda Agricola Castelluccio in Emilia-Romagna, the ancient Tuscany. The winery's history dates back to 1971 and a mere 6ha. Today, it is a 50ha estate, which has become known for its Sangiovese and Sauvignon Blanc with the aid of experienced enologist Vittorio Fiori, his brothers Ermanno, Gianmichele and his son Claudio. Over the years Castellucio received many international recognitions for its fine wines and is considered a driving force in the Romagna region.
The youngest OperaWine story is perhaps that of Giovanni and Rosetta Tessari. In 1982, they invested in a 12ha-winery in Veneto and started a young and dynamic Italian winemaking style, just outside of Verona. True to the terroir, the couple engaged in fostering the native white grape of Soave and aptly called the winery Suavia. Today, their daughters, Valentina, Meri, Alessandra and Arianna supervise the company and continue to impress with their ability to produce genuinely fine white wines. Their applied principles are simple: growing and remaining faithful to the area's heritage, constantly improving the individual Crus and refining the native varieties.
The Drei Donà Estate (Emilia-Romagna) is certainly not a young winery as it has been in the vintner's family since the last century, yet the current owner Enrico Drei Donà has dedicated himself to restructuring the winery. He gave up his legal profession to take over the business in 1981. Since then, their sustainably farmed Sangiovese gained much more attention in the wine world. Interestingly, all of the wines are named after one of their beloved equines. According to Enrico: "Young winemakers in Italy believed in terroirs that had been neglected and thus initiated a sort of Renaissance of Italian wine". For him the advantages of being a young winemaker are that "we are more hungry and foolish", yet he would advise anybody thinking about starting a winery to "do it only if you are really moved by the love for this work… only total love will drive you to the route of success." Especially today, as he sees a lot of difficulties in the Euro zone, but Drei Donà looks forward to exploring the growing emerging markets to hedge against the stagnant European demand.
According to OIV wine production (volume) in 2011 fell significantly in Italy (13%) compared to 2010, which reflects a general trend in Europe in the past five years. Notwithstanding, the International Wine & Spirit Research (IWSR) showed that there will be nearly two billion more bottles of wine consumed worldwide between 2010 and 2015. Currently the United States holds the first rank in wine consumption by volume, followed by Italy and France. How long would it take the Southeast Asian region to catch up?
About:
"OperaWine" (http://www.operawine.it) is discovering the traditions, identity and heritage of the food and art in Italy, whilst falling in love with Italian wines. Exclusive initiatives related to Italian wine, food and culture is to encourage international operators, journalists, sommeliers, wine educators, and high profile wine aficionados alike to explore the fascinating history and context of Italian wine production.
Wine Spectator is the world's leading authority on wine that reaches more than 3 million readers worldwide, exploring wine's role in contemporary culture and delivering expert reviews of more than 15,000 wines each year. Wine Spectator is solely responsible for the choice of producers at the event.
Vinitaly is the largest wine fair in the world with over 4,500 producers and 150,000+ visitors (including 45,000 from foreign countries). The event is held every year in Verona, Italy (46th edition: Verona 25-28 March 2012).
For further information, please contact:
media(at)operawine(dot)it
http://www.operawine.it
tel: +39 045 8101447
# # #