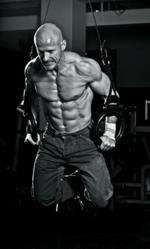 I love it! I think CrossCore® is a revolutionary product. - Rose Gracie
Duarte, CA (PRWEB) January 23, 2012
CrossCore, Inc., and MMA Worldwide are joining forces to present two days of non stop demos, athlete appearances featuring MMA Fighters, Bas Rutten and Tito Ortiz, training sessions with Fred George, Josh Henkin, the Los Angeles Based Barholics, the Tapout Magazine Ring Girl Competitions and live remotes.
The CrossCore® RBT™ and MMA Worldwide Strength and Conditioning Area will be offering training circuits for all featuring the CrossCore180® RBT™ system, The Burn Machine by Fred George, Ultimate Sandbag Training by Coach Josh Henkin and Stroops MMA Products. This incredible training program, AKA "THE SUICIDE CIRCUIT", will be seen on Saturday January 28 and Sunday January 29, 2012. See the show schedule for details at http://www.crosscore-usa.com or http://www.thefitexpo.com/mma.asp.
During the show, CrossCore® will be conducting demonstrations on how Rotational Bodyweight Training™ is not only an essential part of Mixed Martial Arts fighters' training, but also how everyone can benefit from using this system as a training and fitness tool.
"I love it! I think CrossCore® is a revolutionary product. Since we started using it we don't need to drive to the gym anymore. We bring the gym with us anywhere we go. It is a cost effective way of getting in shape. My goal is for me and our fighters to Pull the Pin," said Rose Gracie - The Fit Expo and Co-Owner, Javier Vazquez Academy - Gracie Jiu-Jitsu Training Center in Rancho Cucamonga.
Directly across from the CrossCore® / MMA Worldwide Area will be the Gracie Nationals GI and NO-GI Tournament along with the 1st Annual Javier Vasquez Wrestling Nationals. And once again, the Tapout Magazine "Ring Girl of the Month" is sure to be a hit with four teams of some of Southern California's hottest girls competing. This is sure to bring the fans out to cheer on their favorite team.
"CrossCore is proud to join so many great forces at Fit Expo Los Angeles," said JP Brice, Vice President, CrossCore, Inc., "We get to show how our RBT™ systems work so well with all of the different types of training regimens and fitness products available today. It will be a great show!"
CrossCore, Inc. is a manufacturer of advanced Rotational Bodyweight Training™ products and accessories. Its one-of-a kind patents pending pulley systems adds rotational movements to continuously engage the core and the entire body to create highly effective training techniques. Additionally, CrossCore® products offer high versatility in fitness training with the addition of accessories including modular training racks and attachment straps for kettlebells, gymnastic rings, and sandbags to deliver peak conditioning opportunities. CrossCore® allows all levels and ages of users- fitness enthusiasts, sports performance athletes, military personnel, mixed martial artists and more- to safely challenge themselves and to actively grow their fitness goals. CrossCore's rotate to engage products are distributed in the U.S. and Internationally.
For more information please go to http://www.crosscore-usa.com or contact Jay Wilson at jay(at)crosscore-usa(dot)com
###