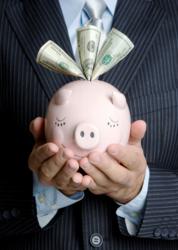 In this environment, the safer play is to buy back your own shares on the stock market.
New York, NY (PRWEB) January 24, 2012
According to popular e-newsletter Profit Confidential, Target Corporation is the latest big company to announce another major share repurchase program, while Macy's, Inc. recently boosted its quarterly outlook and doubled the amount of dividends it pays to shareholders.
"In this environment, the safer play is to buy back your own shares on the stock market," says Mitchell Clark, contributor to Profit Confidential.
Clark believes that the U.S. economy is not going to grow in a sustainable manner unless corporations start investing in the Main Street economy. "The problem is, large-cap companies are just as skittish about the economy as stock market investors. This is why we're going to see increased dividends and a lot more share buybacks this year," writes Clark.
As reported by Profit Confidential, Target's board of directors authorized a new $5.0-billion share repurchase program, as its previous $10.0-billion repurchase program winds down. From November of 2007 until the third quarter of 2011, the company repurchased more than 185 million shares at an average price of $51.53 per share.
"I think it's going to be a pretty decent year for stock market investors who are focused on companies that pay higher rates of dividends to shareholders. All that cash has to go somewhere, so it might as well go back to the owners," says Clark.
Clark believes that large-cap companies are poised to increase their stock market repurchase programs significantly and increase their dividends. "Corporations know that the stock market isn't overpriced, so instead of risking the cash on new business investment, it's much safer to just return more of it."
Profit Confidential, which has been published for over a decade now, has been widely recognized as predicting five major economic events over the past 10 years. In 2002, Profit Confidential started advising its readers to buy gold-related investments when gold traded under $300 an ounce. In 2006, it "begged" its readers to get out of the housing market...before it plunged.
Profit Confidential was among the first (back in late 2006) to predict that the U.S. economy would be in a recession by late 2007. The daily e-letter correctly predicted the crash in the stock market of 2008 and early 2009. And Profit Confidential turned bullish on stocks in March of 2009 and rode the bear market rally from a Dow Jones Industrial Average of 6,440 on March 9, 2009, to 12,876 on May 2, 2011, a gain of 99%.
To see the full article and to learn more about Profit Confidential, visit http://www.profitconfidential.com.
Profit Confidential is Lombardi Publishing Corporation's free daily investment e-letter. Written by financial gurus with over 100 years of combined investing experience, Profit Confidential analyzes and comments on the actions of the stock market, precious metals, interest rates, real estate, and the economy. Lombardi Publishing Corporation, founded in 1986, now with over one million customers in 141 countries, is one of the largest consumer information publishers in the world. For more on Lombardi, and to get the popular Profit Confidential e-letter sent to you daily, visit http://www.profitconfidential.com.
Michael Lombardi, MBA, the lead Profit Confidential editorial contributor, has just released his most recent update of Critical Warning Number Six, a breakthrough video with Lombardi's current predictions for the U.S. economy, stock market, U.S. dollar, euro, interest rates and inflation. To see the video, visit http://www.profitconfidential.com/critical-warning-number-six.
###