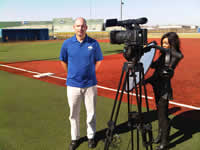 League City is an economic and cultural powerhouse.
Coral Springs, Flordia (PRWEB) January 23, 2012
The producers of the Today in America TV Show are proud to announce a new segment that profiles League City, Texas as part of its Discover America Series called "America's Hidden Gems of Work and Play". League City is a rising star among Texas communities. With its entrepreneurial identity and business-friendly culture, many companies are seeing why this little gem in the Lone Star State is such an economic and cultural powerhouse.
Today in America is a TV program hosted by Terry Bradshaw that features profiles of cities, businesses and people across the country, in Canada, and across the world. Today in America has traveled as far away as China, Italy, and France to bring viewers the latest in news and information about the ways we live, work and play. With its emphasis on new technologies, new industries, and global business practices, The show provides its viewers with fascinating insights into the developments that matter most in our lives.
Host Terry Bradshaw presents a unique face to Today in America TV. With his wit, humor, and intelligence, Terry Bradshaw brings viewers to the heart of the stories behind the scenes of new and established companies. When communities like League City, Texas are featured on the show, a wider understanding of the country is presented.
There is no substitute for being profiled by The Today in America TV Program. For more information visit the official website at todayinamericatv.com.
# # #