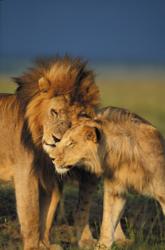 New York, NY (PRWEB) January 23, 2012
For travelers dreaming of checking "safari" off their bucket lists this year, there has never been a better time to choose Micato Safaris, the premier provider of luxury African safaris. For 2012, Micato has not only added enhanced off-the-beaten path active adventures and enriching, authentic experiences, but is has introduced a new policy: No Tipping. Ever.
Micato trips are already unmatched in their degree of included extras, from exceptional special events to educational enhancements, plus myriad little luxuries lavished upon guests throughout. Now, for the first time, all gratuities are included, even for the Micato staff: Safari Directors, Drivers and Concierges. It's a revolutionary decision, perhaps even unprecedented in the realm of luxury tour operators. But Micato travelers told us that the practice of tipping was inconvenient. And we listened. With Micato, all-inclusive truly means everything is included.
Micato Safaris' Newly-Enhanced Bespoke Collection: Exquisite bush homes, stunning eco-lodges, and exclusive ranches coupled with top-flight transportation already provide an unparalleled experience for those travelers who prefer to custom-design their adventure. But in 2012, we're raising the bar even further:
New this year to Micato's East Africa Bespoke Collection of prestigious properties is the Tawi Lodge. At the foot of Mount Kilimanjaro in Amboseli National Park, Kenya, Tawi effortlessly blends modern comforts with traditional African design. Each private thatched cottage is equipped with a fireplace and manned by a personal butler, and the wildlife viewing is spectacular. Nestled in an oasis of virgin wilderness beneath a grove of palms and figs, LeMarti's Camp in the Laikipia region of Kenya is owned by a local Samburu guide and his renowned fashion-designer wife. The combination is electric, as his connection to the land and its peoples mingles with her elegant style and artistic skill to redefine luxury. Also new to the Collection this year is Ngerende Island in the Maasai Mara, where seven luxurious canvas and mahogany suites rest on raised platforms, providing perfect views of the Mara River and its sonorous hippos. Here as well a private butler stands ready, ensuring a hot bubble bath and roaring fire are awaiting after a wondrous day of viewing game in the Mara. On the Tanzanian island of Zanzibar, Micato's guests at The Residence will enjoy dreamy views of the ocean or frangipani garden, private pools, and service fit for a sultan.
La Residence in Franschhoek, and Phinda Game Reserve in KwaZulu-Natal join Micato's elite Southern Africa Bespoke Collection. Situated at the heart of a private working farm, La Residence is intimate and lush. The soothing ambience of each room feeds into the next, from the mellow glow of gold bathroom fixtures to the thick Persian carpets lining the rooms. The countryside is at the doorstep, where guests can indulge in a horse-drawn wine and cheese tour, or try paragliding or quad-biking, returning in the evenings to the last rays of the warming sun and farm-to-table haute cuisine. Dubbed the "Seven Worlds of Wonder," Phinda's wilderness is a dazzling amalgam of woodland, grassland, wetland, forest, mountain ranges, river courses and rare dry sand forest.
A Cape Town Sojourn: A beautiful mix of natural and man-made pleasures, Cape Town is Africa's treasure for good reason. Now, Micato travelers can begin or end their safari with a few days in this magical city, with the 5-day Cape Town Sojourn extension. The Cape Grace is home here; ranked the No. 2 City Hotel in Africa and the Middle East by Travel + Leisure, its location on the Victoria & Alfred Waterfront is in the center of everything. During their stay, guests will enjoy a full-day tour of the stunning Cape Peninsula, including visits to the Cape of Good Hope, Boulders Beach for penguin viewing, and the historic streets of Simon's Town. Also included is a tour of the Cape Winelands, with prime vintages and exquisite cuisine at the magnificent Delaire Estate and shopping in the quaint village of Franschhoek. Another day brings guests deep into the culture of Cape Town, with a tour of Robben Island, where political prisoners including Nelson Mandela and current South African president Jacob Zuma were once held. Guests will also visit the inspiring Rosie's Kitchen, where destitute children and elderly residents of the diverse Khayelitsha Township receive their meals. Helping out with this life-changing initiative will be a crescendo to your safari.
And, Speaking of Life-Changing… Micato-AmericaShare Turns 25 in 2012.
Seldom do travelers have an opportunity to make a genuine difference in the lives of the people whose lands they visit. Yet in Africa, every day for 25 years this miracle has taken place for travelers who join in the good works of Micato's nonprofit foundation, AmericaShare (http://www.americashare.org). AmericaShare was founded by Micato Safaris with the education of orphaned and vulnerable children as its highest priority. One hundred percent of every donation reaches the children, since all administrative costs are paid by Micato. What began as an idea and a dream has grown into a vital foundation that has been changing lives for a quarter century!
Last But Definitely Not Least: Micato Renews Its One For One Commitment: Every guest's safari enables Micato to do something wonderful: for every safari sold, Micato sends a child to school—a child who would otherwise stay home due to extreme poverty. An unimaginable number of African children do not attend school because their families are too poor to pay even the most nominal fees related to school attendance. Micato's way of helping? A "One for One" commitment: For every safari sold, Micato sends one African child to school.
The #1 tour operator in the world, passionately dedicated to giving back… what better reason could one have for going on safari in 2012? To book a safari or for more information call 1-800-MICATO-1 or visit http://www.micato.com.
About Micato Safaris
Micato Safaris is a luxury tour operator offering safaris to East Africa and Southern Africa. Founded by native Kenyans Felix and Jane Pinto in 1966, the family company has garnered praise for both the high standards of its luxury safaris and the good works of its Nairobi-based non-profit arm, Micato-AmericaShare. Micato won a "World Savers" award from Conde Nast Traveler following the advent of its One For One Initiative, wherein for every safari sold Micato sends an African child to school. Micato has received the Travel + Leisure "World's Best Tour Operator & Safari Outfitter" award an unprecedented eight times.
###