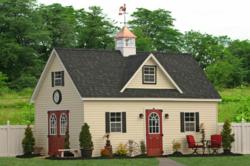 Legacy Two Story Buildings are the perfect choice for extra storage space.
Gap, PA (PRWEB) January 22, 2012
Sheds Unlimited of the Amish Country in Lancaster, Pennsylvania has long been a quality producer of two story barns, garden sheds, and prefab car garages. But during the typical slow winter months of 2011 and 2012 Sheds Unlimited is increasing the options available to customers searching for a custom barn, storage shed or prefab car garage with an attic storage space area. The addition of new dormer styles on the second floor, combined with the additional of a stone front and other aesthetically pleasing touches are keeping the Sheds Unlimited Amish made two story barns, sheds and garages ahead of the competition.
Never before has Sheds Unlimited provided such a wide variety of options for a dormer on their portable two story sheds, barns and garages. There is the new Shed Dormer which adds substantial storage space to the garage attic in the Legacy two story buildings. This dormer nearly doubles the cubit feet in the attic of the Legacy Two Story Barn or Shed and makes the second floor much more useful. In addition, the Eyebrow Dormer is a new feature to the Sheds Unlimited line of options for a prefab two story garage. This dormer provides less space than the shed dormer, but is a very pleasing addition for beauty and additional lighting on the second floor.
To add to the style of the two story car garage, custom barn or storage shed, Sheds Unlimited INC is also offering new choices for outside wall covering. According to a Sheds Unlimited INC manager, "additions such as stone front and board and batten siding choices combined with various other designs make so that the Legacy Two Story Buildings are the perfect choice for extra storage space."
Even the delivery of a two-story shed, barn or garage is in a process of change. Now one can purchase a Legacy two-story-car-garage in Lancaster, PA and have it delivered as a unit to almost any property in PA, NY, NJ, CT, MD, DE, VA, WV and have it set in place very quickly. The recent addition of a heavy duty crane to the Sheds Unlimited INC delivery team allows a two story garden building to be delivered and put in place. The crane will pick up the roof section and be installed on top of the first floor.
While the Legacy two story buildings are the choice for most aesthetically pleasing designs, Sheds Unlimited INC also provides the traditional two-story garden building. As always, two story prefab buildings from Sheds Unlimited come in a variety of styles and countless options to choose from. First and most economical is the standard wood and vinyl two story shed and garage line which can have attic space in the truss area. These are available with a full sized stairway for ease of access or a pull-down stairway to reach the second floor attic area on the storage shed, custom barn or prefab garage.
History of Sheds Unlimited
Sheds Unlimited has been family owned and operated for over two decades. Their ongoing commitment to quality customer service and innovative two story prefab car garage designs combined withe vast array of outdoor storage sheds, custom barns and outdoor garden buildings has attributed to the growing options for self-storage units available from the Amish Country at reasonable costs.
# # #