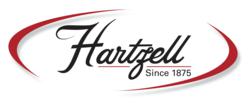 Jeff Bannister, Hartzell CEO states, "Tom's reputation and expertise in the industry, including his committee work at the Air Movement and Control Association International (AMCA), is outstanding."
Piqua, Ohio (PRWEB) January 23, 2012
Hartzell recently announced that Tom Gustafson was promoted to Chief Technology Officer in the Air Movement Division. Tom will report to the President and will also continue to manage Quality and Product Management.
This newly created position provides strategic value for Hartzell as product expansion initiatives are carried out. Jeff Bannister, Hartzell CEO states, "Tom's reputation and expertise in the industry, including his committee work at the Air Movement and Control Association International (AMCA), is outstanding."
Tom has worked for Hartzell 24 years and has many accomplishments in his tenure as VP of Engineering. He was the champion of the design concept for the one-piece solid fiberglass FA wheel and was the principal author of our most recent patent, which reduced the sound levels on our AL prop.
Hartzell Air Movement (formerly Hartzell Fan) pioneered the production of the propeller fan and today is a leading manufacturer of industrial fans and blowers with offices in Piqua, Ohio, and manufacturing plants in Piqua and Portland, Indiana. They specialize in providing custom centrifugal and axial fans and engineered solutions in their core markets.
###