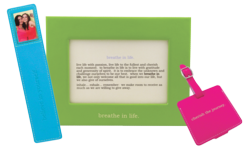 it's all about the message, and I'm excited to get our message out to everyone
Plainview, NY (PRWEB) January 23, 2012
the universe knows is heading to New York City to the nation's biggest gift show. The New York International Gift Fair is hosting the inspirational gift and apparel company once again, and the message is clear; this is a must see booth.
Making an 8th year appearance the universe knows will be attending the New York International Gift show. An inspirational apparel and gift brand, the universe knows will be showcasing new products such as the "pick me up cards", offering half off of wholesale pricing on some old favorites, shipping specials, showcasing all the best- selling products and reminding all who visit them in booth 1303 how to live your best life.
the universe knows, a company known for its inspirational messages, has a unique pearl (of wisdom) on every piece of apparel and each gift item. With pricing between $10 and $54 retail, there is something for everybody. These products have proven to be sold best when showcased together, revealing an uplifting and inspirational color palate.
Founder and chief executive messenger Ron Dinehart, is excited to be attending this year, in a new location. Booth number 1303 is a bigger, airier space in which the company will be better able to showcase the product. The NYIGF has in the past been a place where the universe knows has partnered up with some of its largest and most loyal customers.
Last year which was a record breaking year for the universe knows, the New York Gift Fair was a big part of the kick off for the whole year. the universe knows released new sayings such as live in joy, create your bliss, and make your mark. In 2011, the company had a huge gift product release of the pick me up cards, which are proving to be a wonderful handout at hotels and spas, or perfect to sell as gifts. Burn out tee – shirts, a French terry line, and baby rompers were added to the already inspirational apparel line.
This booth will be a must see. Ron is looking forward to making connections with new people, and reconnecting with old friends, and customers. "It's all about the message, and I'm excited to get our message out to everybody" He said when asked what was the most important part of this show for him. He looks forward to being at the show every day to spread his message.
the universe knows, inc. is an apparel company dedicated to inspiring people. the company was founded on and is dedicated to a unique vision:
to remind people of the wisdom that resides within, and inspire strength and courage to live with passion and purpose.
# # #