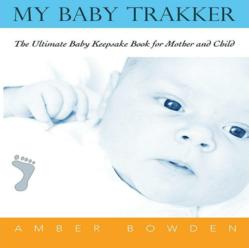 All New Mother's share the same thought; "What's It Like to be pregnant, to give birth, caring for a newborn?" My Baby Trakker will help in the search for answers.
Winchester, VA (PRWEB) January 23, 2012
Author Amber Bowden states, "All new mother's share the same thought; 'What's It Like? To be pregnant, to give birth, caring for a newborn?'"
My Baby Trakker is the ultimate baby book; a combination Personal Medical Record-Photo and Memory Keepsake Journal.
Protecting the health of the mother-to-be and her unborn baby begins with standard prenatal care. There are pages provided within the baby keepsake book for recording medical information, focusing on health history, nutrition, pregnancy weight gain, prenatal healthcare check-ups, past/current labor and delivery, and postnatal doctor visits. Author Amber Bowden has also included space to write down questions to ask on doctor visits, as well as other vital medical information.
After the child's birth, the baby book provides a template for keeping track of his or her total health, growth, and development from birth to age five. Parents will always have their child's up-to-date medical history at their fingertips. Some of the other helpful items included are well baby check-ups, baby milestones, pages to insert photos, a memory keepsake journal, breastfeeding and formula nutrition information, and height and weight charts—as well as a place to record immunizations, tests, procedures, and allergies. My Baby Trakker offers a complete and essential record of the critical first five years of a child's life.
Author Amber Bowden was born and raised in the Blue Ridge Mountains of Virginia. Her innovative concept of designing My Baby Trakker was inspired when her only son informed her that she was going to be a grandmother in 2009. This is the fifth published book in the family of MedTrakker Personal Medical Record Organizers found at http://www.MedTrakker.com.
My Baby Trakker offers expectant mothers an all inclusive Baby Book. Plus it also makes a cherished Baby Shower Gift.
My Baby Trakker is available for purchase from iUniverse Book Store, Amazon, Barnes and Noble and other popular online book retailers.
For Media: Amber Bowden is available for speaking events, book signings, and expert quotes.
Amber Bowden can be reached at http://www.linkedin.com/in/medtrakker for further questions regarding Medical Organizers and Twitter at http://twitter.com/medtrakker
Follow on Facebook http://www.facebook.com/MedTrakker
###