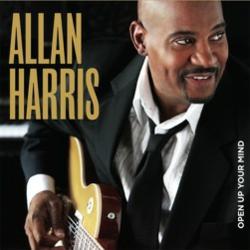 The Allan Harris Band makes its Scullers Jazz Club Debut
Boston, MA (PRWEB) January 22, 2012
Allan Harris's new CD, Open Up Your Mind, is his most compelling release to date. It marks the beginning of a new era for the man known as the singer's singer and gives him a chance to show off his deep songwriting talent and enormous guitar skills.
As a recent Jazz Times review stated "Harris examines more distinctive sentiments, such as the swirling, mysteriously exotic 'Shores of Istanbul' or the sinister, duplicitous 'Inner Fear,' the results are impressively fresh and invigorating." The NY Times' Stephen Holden recently referred to Allan as "a protean talent." Harris has also just released a new video to accompany the CD, "Can't Live My Life Without You." The effects are a dazzling display of live performance shots and famous locations in Manhattan.
"This music is something I've always wanted to record, going back to my roots as a guitar player. I put the guitar down for a while when I started focusing on singing jazz, but I've always missed playing. I grew up listening to guitarists like Jimi Hendrix, Jimmy Page and Jeff Beck but the music I was singing was going in a different direction. Then a few years ago I heard Dolly Parton singing a jazz standard, and it inspired me to break down my own musical barriers," says Harris.
Open Up Your Mind features nine original songs like "Hold You" (recently reaching #3 on Billboard smooth jazz chart) which pays tribute to the great R&B songs of Luther Vandross and Teddy Pendergrass, "Can't Live My Life Without You" which is an upbeat jazzy tune in the vein of George Benson, "The Color of a Woman is Blue and "Inner Fear" which shows off his unique slide guitar styling. The title track "Open Up Your Mind" and "There She Goes" have a crossover edge that melds roots rhythms with contemporary jazz improvisation. "Autumn" is an original ballad about love changing like the seasons and Allan's upbeat and highly original rendition of the classic "Fly Me to the Moon" will surprise and delight all listeners. "Shores of Istanbul," and "I Do Believe," round out the highly anticipated release. Open Up Your Mind combines unique vocals with a contemporary jazz twist and accomplishes the ability to tell a story all at the same time.
Thursday, February 2nd - 8PM
Scullers Jazz Club
400 Soldiers Field Rd.
Boston, MA 02134
(617) 562-4111
Tickets: $25 show/$67 dinner and show
###