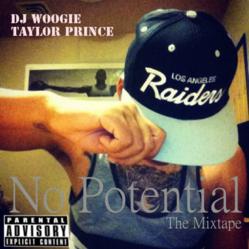 Miami, FL (PRWEB) January 22, 2012
Hip hop artist Taylor Prince recently released his mixtape "No Potential." Coast 2 Coast presents the project, which is hosted by DJ Woogie. It is available for free download. "No Potential" features Taylor Prince on tracks with guest artist appearances from Teddy Shangin.
Nineteen-year-old Taylor Prince hails from Chicago, IL. Though he has loved music his whole life, he only started producing tracks about a year ago and rapping shortly thereafter. He lists some of his musical influences as Drake, Kanye West, Soulja Boy, and Common. Prince is currently working on his second mixtape, "Black on Black," and looking for a record deal.
From getting his big start as a DJ on Shadyville Radio with DJ Whoo Kid to now being the official DJ for all of Soulja Boy Tell 'Em's mixtapes—as well as the tour DJ for SODMG artist Jbar—DJ Woogie has quickly grown to become a well-respected mixtape and tour DJ in the hip hop industry. Having also traveled to Dubai, London, Tokyo, and many other cities across the globe, hip hop fans across the world collectively recognize the talents of the Scranton, Pennsylvania-based DJ who has been able to accomplish so much over the course of his 12-year career.
"No Potential" is available for free streaming and download at http://coast2coastmixtapes.com/mixtapes/mixtapedetail.aspx/taylor-prince-no-potential
###