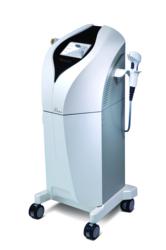 Viora continues to show its commitment to medical aestheticians with the development of V-touch, a fractional RF system
Jersey City, NJ (PRWEB) January 23, 2012
Viora, a leading medical aesthetics manufacturer, is proud to announce the launch of V-touch, a dual function fractional RF and bi-polar RF system for safe and comfortable facial rejuvenation and skin tightening treatments. The first fractional RF system to incorporate vacuum technology, V-touch is a patient-centric innovative device that delivers superior results, is less painful, safer and offers a more controlled treatment experience.
The V-touch system leverages advanced SVC™ technology to allow practitioners to treat areas considered more difficult, such as the neck, décolleté and hands, for all skin types, in all seasons.
"Viora continues to show its commitment to medical aestheticians with the development of V-touch, a fractional RF system," said Eliran Almog, CEO of Viora Inc. "Offering practitioners a more controlled experience, while providing patients with safer and less painful treatments, V-touch is an ideal solution for non-invasive skin rejuvenation and resurfacing."
SVC™ technology
V-touch incorporates three mechanisms – switching, vacuum & cooling – to ensure the highest safety and comfort for patients while providing unprecedented results in fractional non-ablative skin renewal and resurfacing.
Switching - the different switching capabilities make fractional RF more efficient. "Smart heat" generated prior to pulsing preheats the treatment area making it more receptive to the fractional RF energy delivered. Unique pulse structures can be adjusted to better target the source of the symptoms by switching between the RF pins in the array. This superior control means precision treatments and improved clinical outcomes.
Vacuum – the vacuum mechanism ensures proper skin and tip coupling, eliminating the risk of epidermal burns, while increasing the blood-flow which enhances metabolic tissue rate and reduces healing time.
Cooling – the thermoelectrically cooled bracket on the electrode array protects the epidermis and prevents superficial burns, while significantly reducing pain and ensuring a more comfortable and safer treatment experience for patients.
The V-touch system is currently undergoing processing for FDA clearance and is not yet cleared for marketing.
About Viora
Viora is a market-leading manufacturer and technology provider of microdermabrasion, electro-mesotherapy, light-based and advanced radiofrequency systems for the global aesthetic and medical markets. All of the products are developed by a team of veteran engineers in the industry as well as medical experts including physicians, surgeons, dermatologists, medical researchers and independent clinical directors. For more information, visit http://www.vioramed.com.
###