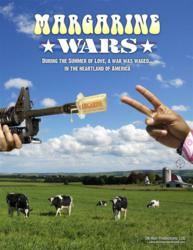 MARGARINE WARS IS COMING
Chandler AZ (PRWEB) January 26, 2012
One of the funniest movies of 2012 is ready for its premiere. Margarine Wars will have its first premiere in Michigan, where the film was produced. After many hours in the editing room, the film is ready to shine on the big screen for the world to see. Director and producer David Rich is excited for the residents of Michigan to see the finished product. The cast and film crew are thrilled for this most exciting stage.
Margarine Wars will premiere at theater in either Birminfham or Royal Oak, Michigan, on March 21, 2012. This will be the world premiere and it will showcase a movie that was filmed entirely in Richmond and Armada, Michigan. The production company used a Michigan crew, mostly Michigan cast and Michigan vendors and suppliers. This makes Margarine Wars a truly "Made in Michigan" movie.
DB Rich Productions LLC is ready to release Margarine Wars. This comedy is about New York Afro-Jew Howard Schmear who becomes stranded in a small town in the middle of Wisconsin. In order to escape this town and get his car repaired, he must sell the one substance that is deemed forbidden and illegal in this conservative town of Butterfield, Wisconsin. Howard pleases the stomachs of town residents but in the process he causes an uproar. Margarine Wars gives viewers an inside-look into the unusual mannerisms of a small town.
Moviegoers will be able to see the movie's all-star cast featuring the star of "Everybody Loves Raymond" Doris Roberts, Emmy Award Winner and Academy Award nominee Robert Loggia, actress Dee Wallace and comedian and newcomer Ron G. The producers and talented crew members are also scheduled to attend. More details on celebrity attendance and ticket availability coming in February.
Margarine Wars' Michigan premiere is a thank you to the state for making it possible to produce a great movie. DB Rich Productions LLC is excited to share this film with the State of Michigan and hopes that everyone will enjoy it, laughing and smiling along the way.
DB Rich Productions is based in Chandler, AZ. It has a second movie being edited currently in Michigan called 'Actor? A Documentary" .
For information on Margarine Wars, you can visit the website http://www.margarinewars.com or like the film's Facebook page at http://www.facebook.com/Margarine Wars.
###