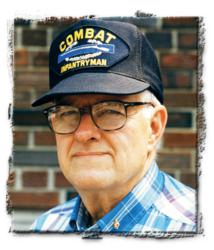 Known as "Dangerous Dan," Marvin was doggedly persistent in his actions and won the admiration of many for his steadfastness and courage.
Cazenovia, NY (PRWEB) January 23, 2012
Lt. Col. Ret., Daniel Marvin, 78, of Cazenovia, New York, passed away Thursday, January 19, 2012 at Crouse Hospital. He was born in Detroit, Michigan on October 10, 1933, and retired in 1973 as a lieutenant colonel after 21 years in the U.S. Army. Dan Marvin was an Army "Mustang," first enlisting in June 1952 as a recruit and later holding the rank of Sergeant First Class. He was later commissioned as a Second Lieutenant and went on to retire as a Lieutenant Colonel. A fully qualified Special Forces Officer (Green Beret), Master Parachutist and Combat Infantryman, he was experienced in covert operations. A veteran of eight combat campaigns in the Korean and Vietnam Wars, he was thrice decorated for heroism. He accepted the Lord Jesus Christ as his personal Saviour on January 29, 1984.
Known as "Dangerous Dan," Marvin was doggedly persistent in his actions and won the admiration of many for his steadfastness and courage. Marvin authored a book based upon his Vietnam experience, Expendible Elite: One Solider's Journey into Covert Warfare (TrineDay, 2003). The revealing nature of the book brought a legal challenge, but Marvin won a unanimous decision in a Federal District Court validating his tale(Case #2:04 CV948, US District Court, Charleston, SC). Marvin was a technical advisor for the Vietnam War film, A Lonely Place for Dying, and he was working on a documentary at the time of his passing.
Marvin was schooled in unconventional warfare and learned the fundamentals of guerrilla warfare, special demolitions and underwater demolitions in addition to assassination and terrorism techniques, civic action and psychological warfare operations. Taught by veteran Green Beret, CIA and US Navy SEAL Team instructors, in 1964 he volunteered to organize and command a covert operations team of eight Green Beret volunteers; the first Green Berets to be prepared to employ the man-portable atomic demolition device (SADM) with an explosive force equivalent to ten tons of TNT. Their contingency mission was to blow the hydroelectric plant at the ASWAN High Dam in Egypt, under construction at the time by the USSR. That same year he and Green Beret Master Sergeant Joseph Hill were involved in a bizarre series of interactions with the leadership of the Boston area Mafia, giving them personal insight into the unique alliance that existed between the CIA, the Mob and the U.S. Army's Special Forces when their unique talents were needed to conduct extremely critical covert operations, including assassinations and sabotage.
In the Vietnam War Marvin commanded Green Beret Team A-424 in An Phu, South Vietnam from 27 December 1965 through 2 August 1966, leading the first combat actions against enemy forces inside their Cambodian safe-havens. These sanctuaries had been provided our enemies by then President Lyndon B. Johnson. Marvin's A Team also conducted counterinsurgency, direct combat, civic action and psychological warfare operations throughout the district of An Phu. Fighting alongside their courageous South Vietnamese Buddhist Hoa Hao "Irregular fighters" they secured and held fifty kilometers of common border with Cambodia and were continually victorious against a numerically superior and better-equipped enemy. Marvin considered the Hoa Hao irregulars the most courageous and most motivated foreign fighting men he'd ever known.
His small team of Green Berets gained the respect of the 64,000 Hoa Haos of An Phu District. With no civilian doctors or organized medical treatment facilities in place, Marvin's two team medics filled the gap, providing a wide range of medical and dental services to the local populace while helping to defend their homes, farms and fishing industry against thousands of Communist insurgents. Victory after victory of these outnumbered fighters attested to the valor and fighting ability of the Hoa Hao fighters and the strength and loyalty of their families and the local population.
In June 1966, the CIA asked Marvin to assassinate Cambodian Crown Prince Norodum Sihanouk. He would employ his Hoa Hao Irregular fighters in an operation designed to make it appear to have been carried out by the Communist Viet Cong. This mission was accepted but later aborted when President Johnson failed to honor Marvin's quid pro quo wherein he demanded that President Johnson deny the enemy further use of their safe havens inside Cambodia. He was to announce that fact publicly in the United States. Within 10 days of his aborting the mission and ordering the CIA agent out of his camp, Marvin's men and approximately 400 Hoa Haos were in danger of being attacked and annihilated by a heavily armed ARVN Regiment sent by the CIA in retribution of Marvin's actions. South Vietnamese Lieutenant General Quang Van Dang and his senior advisor, Colonel William Desobry, interceded, ordered the ARVN Regiment back to their home base, and then flew into Marvin's An Phu Camp and told them they no longer should fear any reprisal. There would be no brother killing brother.
When Marvin's team departed An Phu on 2 August 1966 it was the most secure area in South Vietnam. His next foreign tour was with the 46th Special Forces in Lop Buri, Thailand where he commanded the Special Forces Logistical Operations Center which provided unconventional logistical support to all covert operations in that area of the world. He retired as a Lieutenant Colonel in May, 1973.
Among his most treasured awards is the Hoa Hao purple silk scarf that was presented to him by the Hoa Hao Central Committee when they named Marvin an Honorary Hoa Hao, the only American to receive that special tribute.
Dan was a member of the North Madison Baptist Church in Chittenango, NY. Surviving are his wife of 55 years, Kate Marvin; three daughters, Laurie Casano (John) of Rockville, SC, Mary Stevens (Vaughn) of Rochester and Danilee Varner (Mike) of Moravia; a brother, William Marvin of Trumansburg; a sister, Barbara Steiner of Michigan; 11 grandchildren, including five grandsons who are serving in the Armed Forces; five great-grandchildren; and several nieces and nephews. Funeral services will be 11:30 a.m. Tuesday at Ayer & Zimmer Funeral Home, 38 Sullivan St., Cazenovia. Calling hours will be 10 to 11:30 a.m. Tuesday, prior to the service. Private burial will be in Sampson Veterans Memorial Cemetery, Waterloo. In lieu of flowers, contributions in his memory may be made to Caz Cares, 101 Nelson Street, Cazenovia, NY 13035. AYER & ZIMMER F.H. CAZENOVIA 655-8101
###