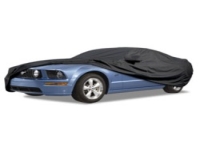 Mustang owners are going to love the addition of Ford OEM logos on Covercraft car covers.
Marietta, GA (PRWEB) January 22, 2012
SouthernCarParts.com (SCP) and Covercraft Car Covers have been partnered for years, offering the best car covers for sports cars on the market. Southern Car Parts is excited to announce they now have the ability to offer Covercraft high quality car covers with Ford licensed logos on them. This means that SCP, who sells the entire Covercraft line, now offers the option to have the same Covercraft car covers with a huge selection Ford licensed logos silk screened on the car cover
There is an extra cost associated with the silk-screen logo printing for Ford vehicles, but the cost itself—at just $25—seems minimal by comparison to market standard rates for such a service. The logos themselves are perfect matches of Ford licensed vehicle emblems, both branding the company and its specific vehicles with a focus on their ever popular Mustang, and are silk-screened on to the high quality covers to guarantee their quality and durability. The ordering of the logos is integrated seamlessly in to the check-out process for the all Ford Vehicles and Mustang Car Covers , and by selecting a Ford silk screened logo the customer also receives a free matching car cover storage bag for free.
Southern Car Parts has been in business for almost seven years now, and in that time has developed an extremely strong reputation amongst the automotive community. When they first began, they specialized solely in the Corvette parts business, but their success and popularity within the Corvette community lead to an expansion of their product line. Today they offer over a catalog containing over 3000 parts for such vehicles as the Chevrolet Corvette and Camaro, Ford Mustang, Dodge Challenger, Nissan GT-R R35 and 350/370Z, BMW M series, Porsche 911 and Cayman, and many others. They've managed to acquire and sustain this growth by dedicating themselves as a company to two primary driving principles: offering superior customer service to their competitors, and providing their product line-up at the lowest possible price point. By adhering strictly to these principles they've grown in to one of the premiere performance automotive parts suppliers online, and have been able to acquire Master Distributor agreements with companies such as Lloyd Mats, Akrapovic Exhaust System, Borla Exhaust Systems, Billy Boat Exhaust Systems, Brembo Brakes, Disc Brakes Australia, Pfadt Race Engineering, and many others.
Amongst those other companies is the industry leading Covercraft who has been in the business of producing top-quality protective soft-goods since 1965. Over their 47 year history, Covercraft has worked on producing covers for motorcycles, boats, RV's, and all other forms of vehicles, and has found the strongest market to be that of the automotive enthusiast. Their car covers are all form fit to hug the vehicle's curves and contours tightly, and provide a show quality appearance. Covercraft also uses only the finest materials across a broad spectrum of vehicle applications so that you can find a cover that meets either your indoor or outdoor storage needs at a price range that's right for you. Their reputation is unsurpassed, and today they have major agreements for licensing and distribution in place with many of the world's leading automotive companies and supply chains. It was this history of incredible business practices and top-notch product production that ultimately brought SCP and Covercraft together almost two years ago, and which has lead to a peaceful and mutually beneficial relationship between the two companies.
If you drive a Mustang, F150, GT, Taurus, or any other Ford produced car or truck be sure to check out the Covercraft product line today. There exists, with certainty, at least one cover that will meet your automotive needs and at least one logo to go with that would be an ideal match for your vehicle.
# # #