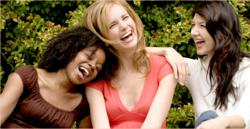 "When I polled women who attend the over 200 women networking locations of The Heart Link Women's Network, I found that women favor women who know how to share or market their products and services with humor." Dawn Billings, CEO of The Heart Link Network
(PRWEB) January 24, 2012
"Networking with a group of people can sometimes feel daunting, especially if you are new to it, or are shy," says Dawn Billings, CEO and Founder of The Heart Link Women's Network.
"When I was in grad school studying psychology, we were taught that when people are faced with frightening or negative thoughts we can help them by teaching them how to psychologically "reframe" their thoughts, which would in turn change how they felt. But how do you successfully "reframe" a negative or frightening thought? Two new Stanford studies demonstrate that the most effective form of cognitive reappraisal is good-natured comedy. They discovered that attempting to make something humorous, helped regulate emotion," states Dawn Billings who had a private family practice for over ten years, before becoming an author and entrepreneur.
"Humor is often seen as a adaptive coping strategy. Two studies findings, when taken together, suggest that positive (but not negative) humor may be an effective form of emotion regulation," says Billings. "I wanted to poll our women networking attendees and simply ask them their thoughts. Overwhelmingly they responded they liked humor. When I asked them why they said it made them feel better, happier, more relaxed."
This is certainly backed up by research, Stanford postdoc Andrea Samson and psychology Professor James Gross found that humor increased positive emotions and decreased negative emotions. "If you are able to teach people to be more playful, to look at the absurdities of life as humorous, you see some increase in wellbeing," said Samson.
The findings support the idea that humor exerts its positive psychological effect by helping to shift a change of perspective. Stanford master's degree student Alana Glassco conducted a similar head-to-head comparison of positive humor with Samson and Gross. The result, presented at the 2011 Society for Personality and Social Psychology Humor Preconference, again found optimistic joking to be the most powerful regulator of emotion.
They also found that subjects who had been asked to use humor also exhibited an increase in verbal fluency after the trial (measured with a standard psychological test that asks subjects to say as many words as possible from a given category). "Now that is a finding that might be important when you are networking with others," says Billings.
So when you attend your networking meetings, whether you have 30 seconds to share, or three full minutes like The Heart Link Network offers, practice sharing your information in a humorous way and find that people remember you, like you and favor you.
###