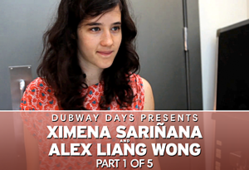 The question is not just whether can we write and record a great song…
New York, NY (PRWEB) January 23, 2012
BreakThru Radio Introduces the first 2012 episode of Dubway Days with Special Guest Star's Alex Wong and Ximena.
Watch the episode premiere right here: BTR/Dubway Days
BreakThru Radio is pleased to announce the first 2012 episode of its new web-TV show, Dubway Days episode that documents the creative process of the best musicians and songwriters working today. The show is about the magic that happens when two artists are thrown together in a recording studio to write and record a song in a single day.
Producer Mike Crehore is hunched over his vintage mixing board in the control room of Dubway Studios. His eyes still on the video monitors, Mike says, "The question is not just whether can we write and record a great song…"
Singer-songwriter Ben Arthur, who is working nearby on a laptop, finishes his thought, "But can we do it in one day?"
That question will be put to the dramatic test as Dubway Days launches its sixth episode on Monday, January 23rd, 2012, featuring Alex Wong and Ximena Sarinana on http://www.dubwaydays.com
The tagline for Dubway Days, "Two Artists…One Day…One Song," sums up the mechanics of the show, but its drama hinges on the immensity of that task. Ben Arthur and a guest begin a day of taping in the morning with absolutely no preconceived ideas for a song. Viewers get a front row seat to witness the false starts and eventual magic that evolves from the creative. Once the song is written, producers Mike Crehore and Al Houghton take the lead to engineer and orchestrate a polished recording of the song using the amazing tools of Dubway Studios.
"The whole process is wild and scary, with the potential for huge payoffs or embarrassing letdowns," says Arthur. "Just the opportunity to work with Ximena and Alex was a thrill. They're extraordinary talents on their own—getting them both in one room is a chance not to be missed!"
Singer-songwriter and producer Alex Wong just released his first solo album, but has had a hand in an amazing array of music, having worked with Elizabeth and the Catapult, Ari Hest, Vienna, Teng, Amber Rubarth, and many others, including Warner Brothers recording artist Ximena Sarinana. Ximena's first album was nominated for two Grammies, went number one in Mexico, was given four stars in Rolling Stone, and was awarded platinum status. She just released her second album, and is about to play Coachella.
"We jumped at the chance to have Ximena and Alex into Dubway," says producer Al Houghton, who co-owns the studio with Mike Crehore. Dubway Studios is often described as one of the few remaining great studios of New York City. Tucked away on the 22nd floor of an office building on Wall Street, Dubway possesses an all-inclusive wish list of legendary musical instruments and recording equipment, both vintage and new.
"We provide a great sounding room and the best recording equipment money can buy," says producer Al Houghton, "but what the musicians do with those tools…well, that's always the thrill!"
Check out the premiere of episode 6 with Alex Wong and Ximena on Blip.TV or the BreakThru Radio site!
Also, don't miss the first five episodes of Dubway Days featuring John Wesley Harding, Vienna Teng, Spottiswoode, Tracy Bonham, and Americana darlings Ollabelle.
ABOUT BREAKTHRU RADIO
BreakThru Radio is "Radio Rediscovered" in a world where FM is out of frequency. In today's overly saturated music market, it is often difficult for listeners to find what they are looking for. BreakThru Radio has the solution. Listeners are given access to independent music from an expansive and diverse pool of genres, in addition to an innovative comedy & culture platform. Offering the best in music from around the world, BreakThru Radio brings its listeners tracks recorded exclusively for the BTR audience from our live studio. BTR offers on-demand access to its shows and on-the-go iPod capability. More information can be found at http://www.breakthruradio.com
ABOUT DUBWAY STUDIOS
Dubway Studios works with VH1, MTV, Nickelodeon, HBO, and practically every label out there, having recorded Ryan Adams, Patti Smith, Janet Jackson, Vampire Weekend, Bjork, John Legend, and many others. More information can be found at http://www.dubway.com
ABOUT BEN ARTHUR
Rolling Stone says, "Ben Arthur has the looks and hooks of John Mayer." Ben has released five albums and a novel, and has performed alongside Dave Matthews, Bruce Hornsby, Tori Amos, and many others. More information can be found at http://www.benarthur.com
FOR MORE INFORMATION CONTACT:
Avi Ben-Zvi, BreakThru Radio, Phone: (914) 260-4012
email: abraham.benzvi(at)gmail(dot)com
###