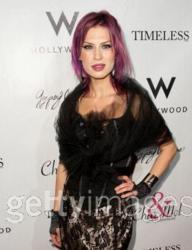 SUN OF AGUN's Chrome-Volume, a music breakthrough
Hollywood, California (PRWEB) January 24, 2012
The new shock-rock diva called SUN OF AGUN has announced today that she has just released a shocking music video for her song "MASHED POTATO HEart." SUN OF AGUN gives credit to Marilyn Manson (http://www.marilynmanson.com) for inspiring her creative genre, and to Lord Zane who directed the music video.
Strong and tight sound compositions, groove, striking beats, raw and demanding vocals, plus magnetic appearance, SUN OF AGUN is the inventor of a new musical style called "Chrome-Volume." It's the new wave of industrial metal mixed with goth-glam, psycho horror, emo, tecno and electro trip. Devilish? Perhaps; however, she is the unisex female idol and the most disturbing provocateur of the new music era.
To watch the new music video, please see the following:
http://www.youtube.com/watch?v=z3FI94wBKyA&feature=youtu.be
Contributors:
The music video director, Lord Zane, is the lead of the band called Society One and a famous suspension artist and director of the music video for Wayne Static….see: http://regenmag.com/interviews/from-extreme-to-exile/ .
The video features actors Rick Mora (Twilight), Lawrence Buchér, and Maurizio Auriel Pelone, each of whom were representing the three "sins" of control, ego mania, and godlessness.
The amazing one-of-a-kind head piece called "Killer" worn in the video by SUN OF AGUN was created by Australian designer Sarah Homburg, whose brand is called Divalicious Fascinators.
The branding stylist and art director is Jim Ampd who is the owner, creative director, and driving force at Amp'd Apparel.
The owner of Limeade brand, fashion designer Louise Kolesnikow, designed the iconic apparel ensemble worn by SUN OF AGUN.
The album art photography was produced by Rich Wysockey.
"MASHED POTATO HEart" is one of 14 tracks that are included in the new SUN OF AGUN album entitled "Done" that is scheduled for release soon. Some of the album's songs are already playing on radio stations around the world.
Links to SUN OF AGUN:
https://www.facebook.com/SUNofAGUNmusic
http://uploads.vampirefreaks.com/Sunofagunindustrial
http://www.notjustfashion.net/eng/cocane-by-sun-of-agun/
For more information:
William Guy
Business Manager
Cornerstone Music Productions
billguy(at)cornerstoneintl(dot)com
1-213-489-6888
# # #