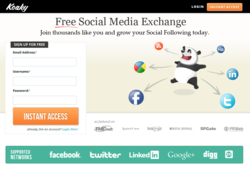 Koaky is the latest service online to grow social networks completely free.
Cebu, CEB (PRWEB) January 24, 2012
Clicking Labs, a leading provider of Web 2.0 business applications welcomes a new development to their platform. Koaky, is Clicking Labs' first initiative to join the ranks of online social media exchange to achieve more Facebook Likes, Twitter Followers, Google Plus 1s, and the like through a click of the mouse for free. This initiative of Koaky was brought on by the vision of the CEO of Clicking Labs, JP Bisson.
Koaky is the latest service online to grow social networks completely free. It is a free social media exchange platform that can help struggling start-up companies, small time personalities, and individuals gather online exposure and credibility in the eyes of its peers.
He mentions "When we first developed Koaky, what we had in mind was to give back to the social community.
Koaky is built on the basis of mutual respect and community where we help others who need the help and they will help others in return to grow online awareness for each other." Business Development – Managing Director, Jonathan Kennedy adds "With so many social networks sprouting about these days, we decided that Koaky must support a wide variety of social networks to serve the needs of the members of our community. That includes our latest addition to the Koaky platform. The Blog section is an important factor because it will provide a way to disseminate our information to share to our users."
The Blog Section will feature articles regarding Facebook, Facebook Share, Twitter, Google Plus and other social networks. The approach for their blog article is light, engaging but at the same time informative about the latest updates and concerns for their members. "Social media is very quick to change and with our blog, this will keep our community informed so they won't have a hard time adapting" says Business Development – Managing Director, Jonathan Kennedy. Expect to find articles such as "Largest and most exciting trends in Facebook Marketing, Twitter Interface and what it means to you, and more."
Koaky is growing bigger, stronger and currently supports the following social networks: Facebook, Facebook Share, Digg, Google Plus, Stumble Upon and LinkedIn. To learn more about Koaky and their latest updates and offerings, please visit their website at http://www.koaky.com.
About
Koaky is a wholly owned company by Clicking Labs. With dedication and perseverance they were able to bring together a diverse team of web professionals to provide internet businesses with creative web marketing strategies. Founded in Ottawa, Canada, the company has expanded operations to Cebu, Philippines in early 2011 to better serve its clients.
###