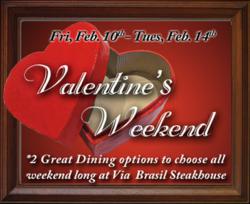 Wine, Dine and experience romance all weekend long at Via Brasil Steakhouse.
Las Vegas, NV (PRWEB) January 24, 2012
This year Valentine's Day happens to fall on a Tuesday, and some restaurants are taking this opportunity to spread the romance of Valentine's Day throughout the entire weekend leading up to the most romantic day of the year. One Best of Las Vegas restaurant that is offering their Valentine's Day special all weekend long is the Las Vegas Brazilian Steakhouse, Via Brasil Steakhouse. With 2 options to choose from running Friday, February 10 – Tuesday, February 14, 2012. Via Brasil Steakhouse will be offering their regular Rodizio Dinner for their normal price of $44.99 and are sweetening the deal with the option to join another couple that evening and receive 2 complimentary Valentines Desserts. The second option is a 3 course dinner for 2, including the Rodizio Dinner, Valentines Dessert and a select bottle of wine for the price of $62.50 per person. The restaurant promises all guests will receive first class treatment and all the romance of Valentine's Day no matter which day they choose to dine.
In past years if you weren't celebrating on February 14, you weren't really celebrating the holiday but just enjoying an evening out. But in recent years all this has changed with restaurants running special Valentine's Day promotions through the weekend, a Friday night celebration on February 10 can have all the romance of February 14. Sometimes work schedules and life in general can stand in the way of celebrating this special day with your loved one, but the beauty of this year's Valentine's Day falling on a Tuesday is it allows everyone no matter what their occupation to celebrate Valentine's Day. For the industry crowd here in Vegas it is often tough to get off on those Friday and Saturday night shifts or even Valentine's Day itself. With Restaurants running their specials up until February 14, these industry professionals have the opportunity to celebrate on a Sunday or Monday while receiving the same experience as the rest of us. And those working the 9 to 5's can always take advantage of the Friday and Saturday night specials available to them giving everyone the chance to receive the pampering and romance of the day that they deserve.
With its extensive all glass wine cellar, multiple water features and overall elegant décor Via Brasil Steakhouse is widely considered one of the most Romantic Restaurants in the Summerlin area. Valentine's Day Weekend they have decided to take it even a step further with each table dining by candlelight and lots of roses to complement the décor. For additional information on Via Brasil Steakhouse Valentine's Day visit http://www.viabrasilsteakhouse.com or call 702-804-1400. Reservations are strongly recommended.
About Via Brasil Steakhouse:
Via Brasil Steakhouse is located at 1225 S. Fort Apache Road, on the southwest corner of Charleston Boulevard and Fort Apache Road. Open seven days a week, Via Brasil Steakhouse is open for Dinner service from 5 pm Monday through Friday, 3pm Saturday and 4PM Sunday. Lunch is Served Sundays Only from 11:30am -4pm. Reservations are encouraged. For reservations or more information, please call 702-804-1400 or visit http://www.viabrasilsteakhouse.com. Also follow us on Facebook and Twitter @viabrasilsteakh
Media Contact
Anna Lawrynowicz
702-804-1400
anna(at)viabrasilsteakhouse(dot)com
http://www.viabrasilsteakhouse.com
###