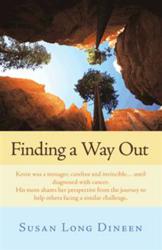 Cincinnati, OH (PRWEB) January 24, 2012
The inspiration for Susan Long Dineen's new book "Finding a Way Out" (published by WestBow Press) was, in her words, a divine one. After helping her teenage son through cancer treatments, Dineen was led to tell her story and help others.
"I received a phone call from parents whose son was dealing with challenges in college following cancer treatment," Dineen remembers. "They asked if I was willing to meet and share my experience and perspective of our own son's cancer journey. I was inspired when they told me how much I helped them understand the realities of cancer when I shared how fighting cancer caused our 17-year-old son to feel like a 35-year-old. On my way home, I heard God's voice, "You just told your story". I was taking a writing class at the time and decided to write the story and reveal how God worked through my experience."
In "Finding a Way Out," Dineen speaks from the point of view of a parent facing the harrowing task of assisting a teenager through cancer treatment. She is vocal about the specific challenges of seeing a teenager through the trials of cancer. "After the cancer diagnosis, I found myself with a 17-year-old son who wanted to be like his friends," says Dineen. "He wanted nothing to do with any changes in his life and was eager to move away to college and a life of independence. I tried everything in my power to help him through the ordeal, but felt like a failure so many times. I eventually understood that dealing with a teenager was a no-win situation, and I needed to turn him over to God and to the trusted hands of a psychologist, who we felt was sent by God."
Dineen gives parents in similar circumstances practical advice to weathering the storm. Seeking spiritual guidance and seeking the help of a skilled professional are high on her list of recommendations. Her son also shares his thoughts in the book that provide insights from the mind of a teenager facing his greatest life challenge.
"Healing from cancer and its aftermath takes time and healing from God," states Dineen. "Psychological counseling and faith in God is important."
About the Author
Susan Long Dineen has a love for children. She earned a degree in primary education and taught in public schools. She was a stay at home mom to three children and launched two businesses: Child Care Professionals, Inc. and Productive Parenting, LLC. She and her husband, Rich, live in Cincinnati, Ohio.
WestBow Press is a strategic self-publishing alliance of Thomas Nelson, Inc., the world's largest Christian publisher, and Author Solutions, Inc. (ASI) — the world leader in the popular self-publishing industry segment. Through this partnership, authors benefit from the rich publishing heritage of Thomas Nelson and the speed-to-market advantages of the ASI self-publishing model. Titles published through WestBow Press are evaluated for sales potential and considered for publication under the Thomas Nelson imprint. Thomas Nelson, Inc. continues to "inspire the world" with distribution of products in more than 100 countries worldwide. For more information, or to start publishing today, visit http://www.westbowpress.com or call (866)-928-1240. Follow us @westbowpress on Twitter for the latest news.
###