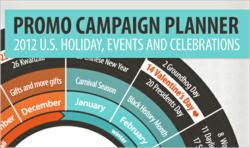 GetResponse is providing marketers with this useful Promo Campaign Planner, because changes in seasons are perfect opportunities for them to increase their revenues."
WILMINGTON, Delaware (PRWEB) January 24, 2012
GetResponse, the leading email marketing provider, today announced the release of their Promo Campaign Planner – a free calendar infographic that compiles the major U.S. public holidays and special celebrations. Marketers can use this practical tool to leverage seasonal activity and create better email campaigns.
About the Promo Campaign Planner
"Today's consumers expect to receive more special deals and offers during holiday seasons," said Simon Grabowski, CEO of GetResponse. "We're providing email marketers with this useful infographic, because changes in seasons are perfect opportunities for them to address the needs of their customers and prospects, and increase their revenues."
The planner is a graphical representation of seasonal events that drive consumer buying patterns. From this comprehensive array of opportunities, marketers can pick-and-choose campaigns to run based on seasonal events and celebrations. Such campaigns can be an ideal way to increase relevance and universality.
Issued at the beginning of the year, it is designed to help marketers schedule campaigns in advance and decide which events are especially meaningful for their industry sector.
Capturing Seasonal Opportunities
The calendar enables marketers to implement a long-range strategy that covers the entire year. The payoff comes in the potential to maximize marketing ROI.
With the Promo Campaign Planner, marketers can:

Set priorities - so scarce resources can be concentrated on maximizing revenues
Be selective - to avoid running campaigns during seasons when payoff may be low
Prepare in advance - to avoid lapses in execution due to last-minute planning.
Traditionally, each season is accompanied by increased consumer activity. Thus each can be an opportunity for marketers to strengthen their position in the market and multiply sales.
Knowing when your customers are more inclined to make purchases and how to adjust strategies for the swings in consumer behavior is crucial to successful implementation of campaigns.
Download and Share
Marketers are encouraged to download the Promo Campaign Planner and make it available to internal marketing personnel and contract service providers.
Download the Promo Campaign Planner infographic at:
http://blog.getresponse.com/promo-campaign-planner-for-seasonal-sale-success-infographic.html
About GetResponse
Launched in 1999, GetResponse now serves more than 210,000 active users from 183 countries, delivering 10 billion permission-based emails per year. Clients include: GlaxoSmithKline, Intercontinental, University of Arkansas, Vemma, Carrefour and thousands of small businesses and professional firms. For more information, please visit http://www.getresponse.com
###