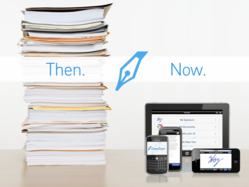 San Francisco, CA (PRWEB) January 25, 2012
Striving to offer efficiency and simplicity, EasySignMobile is the first eSignature app on iOS to introduce user authentication via Facebook. "Facebook has become the primary identity of users on the web, making it their go-to choice for logging into popular websites and apps," said Sunil Patro, Co-Founder of EasySignMobile. "Logging in through Facebook allows our users to import contact information automatically from the social network, making it convenient for filling future documents faster."
Other major updates to the app have enabled EasySignMobile users with better accessibility to remote files. EasySignMobile is proud to introduce Dropbox and Box.net integration, allowing users to seamlessly import and save documents that are stored in the cloud.
EasySignMobile has a presence in more than 110 countries and is being used by consumers and businesses to sign and fill documents in their local languages. "Global adoption has been overwhelming and hence going a step further with international character support was a must in our roadmap." said Sunil Patro. The most recent version v3.4.6 of EasySignMobile's iOS App is currently available in 6 international languages including Spanish, French, Italian, German and Russian and supports international characters such as, and not limited to Chinese, Korean, Japanese, Hebrew and Arabic.
"We're proud to be at the forefront of the mobile eSignature solution and look forward to reaching out to new users on other platforms." concluded Patro. EasySignMobile released their Android v1.0 app in October 2011 and has plans to further expand into Windows Phone and Blackberry while further developing functionality for Android.
About EasySignMobile: EasySignMobile is an innovative mobile application that focuses on bringing hassle free and cost effective solutions to both individuals, information workers and businesses who need to be able to sign documents anytime, anywhere around the world. Whether it's a small business owner, sales person, realtor or a contractor, EasySignMobile drives to deliver products that help these customers sign documents without the hassle of printing, scanning and faxing. EasySignMobile launched at Apple's AppStore on July 20, 2010. Copyright (C) 2012 EasySignMobile.
Follow EasySign on Twitter - @easysignmobile
Follow EasySign on Facebook - facebook.com/easysignmobile
Follow the EasySignMobile Blog - blog.easysignmobile.com
EasySignMobile is brought to you by Glykka LLC. Glykka LLC was founded by people who love to make life simpler and easier with the power of mobile phones and tablets.
Media Assets:
Download From iTunes: http://itunes.apple.com/app/id381786507
YouTube Video (Promotional): http://www.youtube.com/watch?
v=KnZLIZui_zM&feature=mfu_in_order&list=UL
YouTube Video (iOS Walkthrough): http://www.youtube.com/watch?v=ipRZS3UMQOQ&feature=youtu.be
YouTube Video (Android Walkthrough): http://bit.ly/uEDhV0
All Rights Reserved. Apple, the Apple logo, iPhone, iPod and iPad are registered trademarks of Apple Inc. in the U.S. and/or other countries.
Media Contact: Stephen Greenwood - User Experience / Outreach
831-420-7399 - sgreenwood(at)easysignmobile(dot)com
###