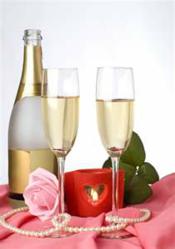 A man is cheating himself out of pleasure when he resists honoring his wife on Valentine's Day.
New York, NY (PRWEB) January 27, 2012
Dr. Bonnie Eaker Weil, PhD, author of Make Up Don't Break Up warns couples that Valentine's Day can be a setup for misery. "Each year, many women anticipate romantic gestures from their husbands only to be disappointed when their lover forgets to acknowledge Valentine's Day," says Dr. Bonnie who adds that husband's who forget the upcoming romantic holiday is probably not accidental.
"Ignoring Valentine's Day is a symptom of an underlying issue. He may have some anger, resentment, doesn't want to be told what to do, feels under-appreciated or has negative feelings about his wife, but is clueless about the source," Dr. Bonnie explains.
"Examples of comments a husband will make when trying to avoid giving a gift or creating a romantic evening are: 'Valentine's Day is a Hallmark Holiday,' referring to the belief that the holiday was created to benefit retail merchants. This avoidance and excuse making causes hurt feelings and romantic moments are sabotaged while underlying feelings go unexposed."
Dr. Bonnie reminds couples that using Smart Heart dialogue, (outlined in Make Up Don't Break Up with accompanying DVD Falling in Love and Staying in Love) will open up the lines of communication, create emotional intimacy with empathetic gestures, and help clear up issues brewing under the surface of the relationship.
Dr. Bonnie recommends couples talk openly and express their feelings using Smart Heart skills. Avoiding Valentine's Day the holiday dedicated to lovers creates missed opportunities for intimacy on all levels. When couples engage in romantic activities, Oxytocin the feel good hormone bonds their union.
"A man is cheating himself out of pleasure when he resists honoring his wife on Valentine's Day, yet it can be a common occurrence, repeated yearly. This in itself is a wake-up call that the marriage needs help. So, in a way, Valentine's Day is a litmus test of marital health. If issues remain unresolved, please seek counseling before resentments and anger builds," Dr. Bonnie advises.
If a woman feels her husband is merely forgetful, or a poor shopper, and the relationship is in otherwise good shape, Dr. Bonnie recommends the wife take initiative, mention the holiday beforehand, suggest a shared shopping experience where they both indulge each other, or purchase a gift for him in advance as a loving gesture and reminder.
Dr. Bonnie Eaker Weil (Dr. Bonnie) is a relationship expert who was named by Psychology Today as one of America's best therapists, and by New York Magazine as one of New York City's best therapists. Known as "The Adultery Buster" and the "No. 1 Love Expert," she is the best-selling author of Adultery: The Forgivable Sin (adapted into a Lifetime movie starring actress Kate Jackson), Make Up Don't Break Up, Finding and Keeping Love for Singles and Couples (Revised edition Feb 2010, including DVD How to Fall in Love and Stay in Love for Singles and Couples), Can We Cure and Forgive Adultery?, Staying Not Straying, How Not to (S)mother Your Man and Keep a Woman Happy, and Financial Infidelity (Making Money Sexy).
Dr. Bonnie has appeared on ABC's Good Morning America, a three-day series on NBC's The Today Show, The Oprah Winfrey Show five times, a four day series on Fox TV regarding dating, Discovery Health documentary "Infidelity" and A&E on addictions. She appears frequently on ABC, Fox, CBS and NBC News, The View, 20/20, and CNN. Visit Dr. Bonnie at http://www.DoctorBonnie.com.
###