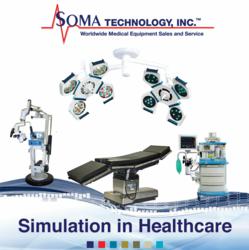 Bloomfield, CT (PRWEB) January 24, 2012
The 12th Annual International Meeting on Simulation in Healthcare features pre-conference courses all day on Saturday and on Sunday morning. Immersion courses that are designed to expose participants to every facet of scenario design and implementation are back by popular demand. There will also be presentations by keynote and plenary speakers to deliver diverse and informative viewpoints. Attendees can view exhibitor listings, floor plans, local attractions, and complete conference details (i.e., costs, schedule, and highlights)here.
Soma Technology can supply healthcare simulators with everything from anesthesia machines, defibrillators, and patient monitors to entire OR suites. With today's medical industry facing skyrocketing healthcare costs and other challenges, it is time to take another look at refurbished medical equipment. In today's economic climate, Soma Technology, Inc. offers both top-quality medical equipment from the leading brands in the industry and savings to ensure peace of mind as our partners expand their services. Interested healthcare providers can experience great simulation possibilities at the IMSAL Web site. The site features virtual tours of Emergency/ICU and exam rooms that have been outfitted by Soma Technology, Inc. The virtual tours can be accessed here.
About Soma Technology, Inc.
For 20 years, Soma Technology, Inc. has specialized in outfitting healthcare facilities with quality new and refurbished medical equipment. Soma Technology, Inc. has become a market leader because of its commitment to industry advancements and efforts to maintain the highest level of customer satisfaction.
###