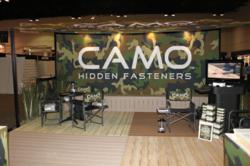 GRAND RAPIDS, Mich. (PRWEB) January 24, 2012
For the second year, National Nail Corp. will be exhibiting CAMO Fasteners at the 2012 NAHB International Builders' Show (IBS), Feb. 8-11, hosted in Orlando, Fla. at the Orange County Convention Center. CAMO will be featured in Booth# W3221.
Along with the CAMO Hidden Deck Fastening System, which launched at last year's IBS, National Nail is expanding the CAMO brand and will unveil CAMO Exterior Screws, compromised of premium deck, structural, composite/capstock and stainless screws.
CAMO will also show the newly released Marksman ProTM-NB, a tool that guides CAMO deck screws into narrow deckboards measuring 3-1/4" – 5". CAMO Exterior Screws and the Marksman Pro-NB will be available for demo.
A drawing for CAMO hats will be held in the booth each day of the show. Five winners will be selected every two hours during show hours. In addition, if spotted wearing CAMO-wear during the four show days, attendees have a chance to win cash on the spot if seen by CAMO team members while walking the show floor.
CAMO, a Pro-Fit® brand, offers easy and affordable fastening solutions for all aspects of a deck, from the substructure to the deckboards and trim. Whether the material is treated lumber, hardwood, cedar, composite or PVC deckboards, CAMO can blend in with any deck surface with color-matched face fasteners, or provide a beautiful fastener-free deck surface with hidden fasteners.
For more information, please visit http://www.camofasteners.com or call 1-800-968-6245 ext. 2134. Be sure to "Like" CAMO Fasteners on Facebook and keep up with CAMO news, stories, photos and events.
National Nail Corp., headquartered in Grand Rapids, Mich., is an employee-owned manufacturer and distributor of high quality, innovative building products and service solutions for the residential and commercial construction industries. Other National Nail brands include Pro-Fit® Fasteners, STINGER® Cap Systems and Impressions Storm Doors and Windows.
###