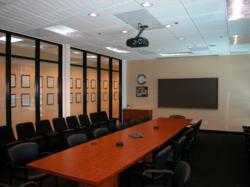 Coworking Plus are taking coworking to a whole new level
(PRWEB) January 30, 2012
A new type of coworking facility, Coworking Plus has been launched in Torrance, CA to help South Bay entrepreneurs, start-up businesses, home businesses, small businesses and corporations work in a professional environment where they can meet with their clients, colleagues and investors in a first class executive setting. Coworking Plus has an atmosphere that stimulates, inspires and motivates business productivity. The idea is to provide a nice place to work, comingle and collaborate with others so they can survive and grow in this difficult economy. Coworking Plus provides facilities for instant growth; a place to handle short term projects or assignments; or facilitate confidential projects without lease commitments and capital expenditures. There are private offices, open spaces and conference rooms so companies can choose where and how to work, learn or mingle.
Coworking Plus will serve companies from the Beach Cities, Long Beach, Los Angeles and Orange County. Located in Torrance, California, Coworking Plus is right off the 405 freeway and central to the Torrance business community south of LAX. The property boasts all the amenities of a Fortune 500 business premises including a business lounge, kitchen, conference rooms, copy room, open space and top of the line fully furnished offices. Whether you require a virtual office, professional workspace or meeting room for a day or two years Coworking Plus can accommodate any company's needs. Coworking Plus conference rooms give companies the option to meet with groups as large as 42 or provide a place to host trainings/seminars.
One of the most successful business brokerage firms in the United States, Business Team is opening the doors to its state-of-the-art office facility where entrepreneurs, start-up businesses, home businesses, small businesses and corporations can mingle with executives closing multi-million dollar deals. The idea was the brainchild of Business Team owner, Ron Hottes, who has been involved in business sales and acquisitions for the past 15 years. Ron believes the next step is to help cultivate these businesses by bringing in experts to help them with their every need. To meet this objective Coworking Plus also houses the new BizEdCenter, (http://www.bizedcenter.com) an education facility catering to business executives, entrepreneurs and mobile professionals in the Los Angeles area. BizEdCenter fosters networking opportunities while providing industry insight from subject matter experts. Most events/workshops are also open to the public with subjects ranging from business planning, business growth, making acquisitions, networking, Microsoft fundamentals, business relationships, etc.
To make sure that the facility successfully combines the collaborative spirit of coworking with the professional feel of private offices Ron has brought in workplace and Coworking specialists, "Your Office Agent," (http://www.yourofficeagent.com) to start, fill and operate the unit.
The grand opening of Coworking Plus is March 1, 2012; however, space is available for lease during our pre-launch phase. Seminars, workshops and events began in February 2012.
For info on some of the excellent sales promotions call Brian Mac Dermott from Your office Agent on Tel 310.856.0208 or Email bm(at)yourofficeagent(dot)com.
###