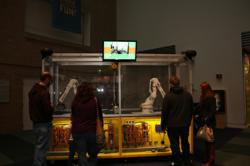 Seeing real-world technology and meeting real robot engineers gives COSI guests a taste of what is possible
Marion, OH (PRWEB) January 24, 2012
RobotWorx spent the day at COSI's Robot Science Day on Saturday, January 14. This is the third consecutive year that RobotWorx has been a part of central Ohio's Center of Science and Industry's Robot Science Day.
Over 2,600 people visited the central Ohio science center on the 14th, many of them stopping to visit the Robot Science Day exhibit. Visitors, age six to twelve years old, could participate with an adult in building their own robot during one of two family workshops.
Robot clubs from all over central Ohio also exhibited their own robots, showing off their movements and sensing abilities.
RobotWorx general manager John Messaros gave a presentation explaining what RobotWorx is, what they do, and what industrial robots and robotics systems are. Common industrial applications and careers in the industrial robotics field were also discussed.
Messaros gave his presentation only feet away from robots that RobotWorx donated to COSI several years ago. The robot arms performed a disco-dance and other applications for the crowd. Messaros had several RobotWorx videos play on a loop while people milled about during the Robot Science Day.
COSI's Manager of Experience Programs Steve Whitt organized the event and invited RobotWorx down for the day.
"We were thrilled to have RobotWorx as part of Robot Science Day at COSI," said Whitt. "We believe in the power of inspiration. Seeing real-world technology and meeting real robot engineers gives COSI guests a taste of what is possible."
RobotWorx has worked with COSI several times in the past. Camp COSI has visited RobotWorx' Marion, Ohio facility on several occasions with students in their Robotics Camp, and RobotWorx participated in COSI's Robot Science Day several times in pervious years.
Whitt sums up the RobotWorx-COSI relationship saying, "Partnerships like this one will help COSI inspire the next generation of engineers and scientists."
About COSI: COSI, the Center of Science and Industry located in Columbus, Ohio, is one of the most respected science centers in the nation — serving close to 30 million visitors since 1964. Parents Magazine recently named COSI the #1 Science Center in the Country. COSI's programs and world-class experiences inspire an interest in science encourage people to want to learn more about their world. Read more at cosi.org.
About RobotWorx: Founded in 1992, RobotWorx integrates new and used industrial robots and customized turnkey workcells into a variety of manufacturing industries. As a FANUC Authorized Integrator, Motoman Solution Provider, and KUKA Official Systems Partner, RobotWorx offers a wide variety of robotic solutions to many industrial applications. For more information on RobotWorx, visit http://www.robots.com or call 740-383-8383.
Photo and video courtesy of COSI
###