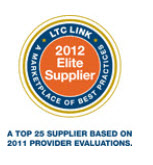 "This seal identifies Care2Learn as a progressive thought leader in long-term care and senior living." – Bailey Beeken, LINK Conference Director and Vice President for Lincoln Healthcare Events
Tampa, FL (PRWEB) January 26, 2012
Care2Learn is proud to announce it has earned an 'Elite Supplier' distinction for the 8th Annual LTC LINK Meetings. The award is given to suppliers that participated in LINK 2011 and ranked in the top 25% of suppliers based on provider scores for their ability to be consultative, innovative, and address providers' specific needs.
"This seal identifies Care2Learn as a progressive thought leader in long-term care and senior living, and as an organization that understands how to build partnerships with clients," said Bailey Beeken, LINK Conference Director and Vice President for Lincoln Healthcare Events.
Through their award-winning healthcare Learning Management System, Care2Learn delivers online healthcare CE and training solutions for the post-acute care market to ensure optimal patient care in skilled nursing facilities, senior care environments, rehabilitation centers, and home health and hospice facilities. They offer the largest online course library in the industry, with more than 350 accredited online healthcare courses and inservices, as well as full reporting and live client support available seven days a week.
"This is an extremely valued recognition for Care2Learn," says Ryan Sparks, General Manager and Vice President of Enterprise Sales for Care2Learn. "We are looking forward to participating again at the LTC LINK meetings this year to demonstrate the successes that can be achieved using Care2Learn's innovative courses and technology."
The LTC LINK annual event brings together top executives from large long-term care and senior living provider organizations with executives from leading suppliers for peer-to-peer education, networking and consultative meetings centered on generating actionable business improvement ideas. LINK suppliers represent more than 35 product/service categories, with participation from innovative industry leaders and emerging companies.
The LINK program offers educational sessions, including case studies from the LINK Spirit of Innovation Award winners, roundtable discussions and innovation focus groups. LINK is exclusively for top level long-term care and senior living provider executive teams from organizations with revenue over $30 million. For sign-up information, please visit http://www.ltclinkconference.com or contact Cynthia Montano at (203) 644-1723.
About Lincoln Healthcare Events:
Lincoln Healthcare Events offers leadership, networking and education programs for the healthcare industry. The company strives to positively impact the quality and effectiveness of the U.S. healthcare system by helping to educate and share best practices among its business leaders.
About Care2Learn
Founded in 2000, Care2Learn provides online healthcare CE for the post-acute care industry. The Care2Learn course library includes more than 2,700 hours of CE and inservices accredited by more than 70 state and national organizations and delivered to over 320,000 healthcare professionals in all 50 states. Acquired by RedVector, the leading online CE provider for the design, engineering, and construction industries, Care2Learn continues to grow by offering customized online eLearning universities to companies wishing to offer training and education solutions to their entire staff in a cost-effective, easy-to-use, and readily accessible manner. For further information, call 1-866-703-9418 or visit http://www.Care2Learn.com.
###