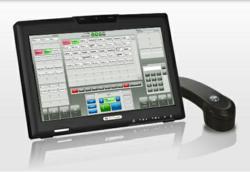 The global reach of IP Trade and BBH Solutions track record of excellence has made this partnership a winning a combination
New York, NY (PRWEB) January 31, 2012
On January 26th IP Trade Networks was the focus product in BBH Solutions open house IT seminar. IP Trade's industry leading SIP-based trading turret and attendant console systems were featured at the event highlighting the first secure, highly available trading turrets and attendant console platforms that fully integrate as SIP endpoints on IP PBX systems, including Cisco Unified Communications Manager.
The open house was attended by industry leaders and featured break-out sessions, demonstrations, and professional networking at BBH's new technology showcase center located at the DAS USA showroom. Throughout the evening attendees networked over food and beverage while engaged in discussion of the advantages of IP Trade industry leading products coupled with the offerings of BBH Solutions.
"We continue to raise BBH Solutions brand awareness with high-profile strategic partnerships such as IP Trade Networks; the overwhelming success of our open-house IT seminar's are just one avenue in demonstrating our position as a leader in customized IT solutions," said Bruce Hoernecke, President and CEO BBH Solutions, Inc. "The global reach of IP Trade and BBH Solutions track record of excellence has made this partnership a winning a combination."
Based on a strong attendance and active participation, BBH Solution intends to showcase the IP Trade products a few more times throughout the year. IP Trade Networks next scheduled event is Cisco Live London (Jan 30th - Feb 2nd ICC London ExCeL); the demonstration booth will focus on IP Trade Turrets, Mobile Trader on Cisco Cius and how to streamline your IT infrastructure and maximize your turret enviroment.
About BBH Solutions, Inc. - Manhattan-based BBH Solutions, Inc. provides technology services with a focus on the converged network, unified communications, and IP-based Audio Visual solutions. BBH Solutions is certified by Microsoft as a Silver Server Platform Partner. They are an APC Gold Partner, and a member of the BlackBerry® Alliance Program. BBH Solutions is certified by Cisco Systems in Advanced Unified Communications and Advanced Wireless LAN. A leader in providing customized network maintenance plans with their BBHWorks program, BBH Solutions offers services including on-site visits, remote monitoring, business continuity planning, disaster recovery, offsite back up, and strategic IT planning. In 2009, the company partnered with IP Trade Networks to offer their IP Trading Turret solutions, which fully integrate with enterprise-class IP PBX systems such as Cisco Unified Communications Manager. In 2011, BBH Solutions launched its cloud services and integration program. BBH Solutions is a four-time consecutive Inc. 5000 Honoree for the years 2008-2011
About IP Trade Networks - IP Trade provides voice and unified communications solutions that address the most stringent demands of professional traders in the most complex environments. First to market with IP/SIP based Touch-Screen trading turrets that leverage the enterprise internet telephony infrastructure, IP Trade systems allow organizations to bring control of trading systems in-house resulting in reduced costs, greater flexibility and improved resilience to support the business critical trading community. Fully compatible with Cisco Unified Communications Manager and otherVoIP systems, IP Trade products are certified to the highest level by the major unified communications manufacturers in the market. Headquartered in Liege Belgium with offices in New York, London, Singapore, Hong Kong and Luxembourg.
# # #