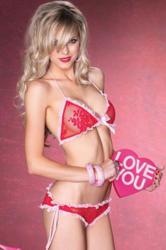 Buying lingerie can be overwhelming for a man who doesn't know anything about lingerie. So many choices and options - what if he gets it wrong?
(PRWEB) January 24, 2012
Even though lingerie is a popular Valentine's Day gift, the thought of walking into a lingerie boutique can be a bit overwhelming for a man who doesn't know the first thing about buying lingerie. There are so many choices and options – what if he gets it wrong?
For those men who are buying lingerie for their wife or girlfriend for the first time, the buyers at Lingerie Diva (http://www.lingeriediva.com) offer this list of things to consider when making their selections:
Size: This is one of the most important elements of buying lingerie. Do some snooping in her underwear drawer and write down the sizes of her bras, underwear and any other lingerie items she has. If for some reason this isn't possible, many items now come in "One size fits all" and are stretchy enough that fit isn't an issue.
Style: Like many things, lingerie is a reflection of the woman wearing it. So take her personality and personal style into account. Does she prefer more modest and demure items? Or is she a bit wild and risk-taking with her look? Select lingerie that matches who she is and what she likes, not just the fantasy in your head.
Color: There are some colors, such as black and red, that are always popular lingerie colors. Selecting her favorite color is also a good way to go. Avoid lighter colors such as nude or white, which have a more basic, utilitarian feel.
Cost: If you go for the cheapest items you can find, chances are it will look cheap and she won't be impressed. Women appreciate high quality lingerie, but that doesn't mean that men have to be completely extravagant. Many brands, like Leg Avenue, Coquette and Seven 'Til Midnight offer great lingerie at affordable prices.
LingerieDiva.com is one of the premier online retailers of sexy lingerie, costumes, club wear and swimsuits. LingerieDiva.com (http://www.lingeriediva.com) features thousands of sensual products, including body jewelry, adult gifts, wigs and men's items. Featured brands include Leg Avenue, Seven Til Midnight, Shirley of Hollywood, Dreamgirl and Escante.
###