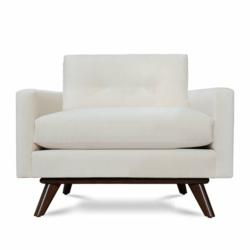 Having the ability to design, sample and manufacture 30 feet from our desks let us get the chairs together that people were asking for.
Los Angeles, CA (PRWEB) January 24, 2012
The five releases, all named for former U.S. presidents, are: the Fillmore, Taylor, Nixon, Arthur and Jefferson. All are available in a variety of fabric or leather coverings.
The Fillmore, named for Millard Fillmore, the 13th president of the United States, sells for $849, reduced from $1,399. Its '50s-inspiration is clear in its flaring, solid-wood base, profile arms and attractive button tufting. At 80 pounds, it makes a solid statement.
The Taylor, named for the 12th president Zachary Taylor, sells for $849, reduced from $1,199. This Mid-Century Modern sampling is closely related to the Fillmore in appearance and design, but includes full-body welting in addition to its flared solid-wood base and button tufting.
Named for the 37th president of the United States, the Nixon is available for $849, down from its original sales price of $1,399. This elegant chair features a blonde walnut-stained base and a tight back with blind tufting. Slight curves lend a soothing aspect to this graceful offering.
The Arthur, for the 21st president Chester Arthur, retails for $799, reduced from $1,495. A classic example of the Mid-Century Modern style, the Arthur features such items as 4-inch arms and hand-turned cone legs.
Named in honor of the country's third president, Thomas Jefferson, the Jefferson is available for $849, down from it's original sale price of $1,199. The Jefferson maintains the classic lines of the Mid-Century Modern style with its elegant cone legs and button tufts. In addition, its synthetic cushion and foam back provides comfortable support.
Los Angeles-based Thrive Home Furnishings is dedicated to bringing back the Mid-Century Modern style back to the nation's mainstream. Thrive Home Furnishings uses the highest-quality, eco-friendly material in for its furniture. The company stands behind what it makes, offering an exclusive 21-day guarantee on each piece of furniture.
As Thrive Home Furnishings Director Josh Stellin says, "We not only speak to a lot of our customers, we listen too. Having the ability to design, sample and manufacture 30 feet from our desks let us get the chairs together that people were asking for."
###