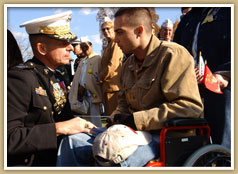 (PRWEB) January 25, 2012
Today in America TV with Terry Bradshaw is a proud to announce a company we should all support. Veteran Oil Partners of Denton, Texas was founded and is being operated by United States Marine Iraq War Veterans and lifelong friends Derek Evans, CEO and Taylor Rogers. Together, these two are using their core Marine values to make their company and their philanthropic endeavors succeed.
The Veteran Oil Partners promotes the dependence of domestic oil and gas production in the United States, and therefore less dependence on foreign oil sources. Derek Evans, CEO explains, "We get $100 billion in oil from foreign countries. We cannot survive on domestic oil alone." He should know since he served during the War on Terror.
It is in this statement where VOP and its co-operative family of companies aims to not only bring the country back to prosperity, but to honor those who've given the ultimate sacrifice and support troops transitioning from the military back into the civilian life. "You're not going to find anybody better suited for the condition and environment in the oil and gas industries than our military veterans", states VOP President Taylor Rogers, who also served during the Iraq War on Terror.
The "Freedom Fighters To Oil Fighters Foundation" was created by the Veteran Company's executive officers to assist returning troops and disabled Veterans in finding long term work in the oil and gas industry field. The foundation teaches them how to hone their military skills for the civilian work force, an To learn more about their patriotic philanthropic work, please visit http://www.veteranoilpartners.com.
Today in America TV with Terry Bradshaw combs the nation and the globe to bring viewers fascinating stories and firsthand insights from entrepreneurs and organizations within various industries. For more information on Today in America with Terry Bradshaw or its host, please visit http://www.todayinamericatv.com.
To speak with a rep from Veteran Oil Companies:
Phone: 888-481-9209
Fax: 936-342-9073
Email: devans(at)veteranoilpartners(dot)com or trogers(at)veteranoilpartners(dot)com
###