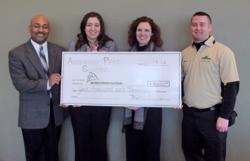 "Giving something back to the community, particularly in this tough economy, is the right thing to do." Mark O'Hara, President, Anderson Pest Solutions.
Elmhurst, Illinois (PRWEB) January 25, 2012
In September of 2011, Anderson pledged to donate $5,000 to the Northern Illinois Food Bank (NIFB) if they reached their goal to hire 25 new employees by the end of 2011. Though the company fell just shy of its objective, Anderson's president, Mark O'Hara, gladly made the donation anyway. He stated, "Considering the success Anderson has experienced over the last two years, giving something back to the community, particularly in this tough economy, is the right thing to do,"
A check was presented by Anderson team members Brandon Savage, Britney Parish, and Kevin Dolan, to Julie Yurko, Director of Development for the NIFB, during a brief ceremony at the NIFB offices in Geneva, Illinois on January 19th.
According to Mark O'Hara, the company is hiring additional staff to accommodate a significant increase in business. "We really need 50 new people by Spring and have outstanding opportunities for new recruits to begin a career with Anderson and grow with our company," he said. The company is searching for employees to fill a range of available positions, including service technicians, customer service representatives, service managers and sales managers.
Asked for reasons why Anderson did not achieve its hiring objective in 2011, Mark O'Hara stated, "There's a popular misperception about the pest control business. People still have an image of the guy with a tank on his back spraying dangerous chemicals. It's kind of a stereotype. But that's never been the way we provide service at Anderson. We focus on prevention and helping our customers create an environment in their homes and businesses that are unattractive to pests. It's a more high tech business these days than people think."
Asked to explain the company's current hiring need, O'Hara cited an overwhelming response by both commercial and residential customers to Anderson's Natural Choice® program of environmentally responsible services.
The Northern Illinois Food Bank, based in Geneva, Illinois, acquires and distributes food to pantries, soup kitchens, shelters and other hunger reduction sites, providing food for an estimated 502,000 different people annually.
About Anderson Pest Solutions
Anderson is the largest family owned pest solutions company in the Midwest, ranked 32nd largest in the nation in 2010 by Pest Control Technology magazine. Since 1913, Anderson's only business has been providing solutions for pest issues for residential and commercial properties in Illinois, Indiana, Missouri, and Wisconsin. Anderson's service is backed by one of the strongest customer satisfaction guarantees in the industry.
Anderson is a recipient of the Environmental Protection Agency's "gold" status, and was designated by the EPA as an "outstanding environmental steward" for their "demonstrated commitment to pesticide risk reduction."
For more information, visit http://www.AndersonPestSolutions.com, email info(at)anderpest(dot)com, call toll-free 866.696.BUGS, or write the company at: Anderson Pest Solutions - 501 West Lake Street, Suite 204, Elmhurst, Illinois 60126.
###