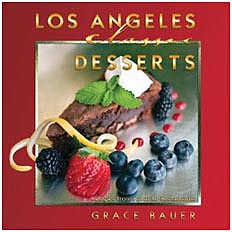 This sweet book, designed for the home cook, takes you through the culinary landscape of Los Angeles and its history as its recipes feature both classic and contemporary desserts. Each recipe is accompanied by mouthwatering photographs.
Los Angeles, CA (PRWEB) January 25, 2012
Nothing says "celebrate" on any special occasion better than classic, yummy homemade desserts and a unique cookbook, "Los Angeles Classic Desserts," contains over 40 dessert recipes from some of the most famous landmark restaurants in Los Angeles. The delicious and iconic recipes have been perfected for the home kitchen and the cookbook is perfect for anyone who loves to create classic desserts for family and friends, especially on occasions such as Valentine's Day, Easter and Mother's Day.
The recipes range in style from classic and traditional old-Hollywood to hip and trendy Los Angeles. The full-color book includes beautiful photography illustrating the recipe and a bit of history of each restaurants represented in the book.
"I was asked to write the "Los Angeles Classic Desserts" cookbook when I found a second career in the culinary world," said author Grace Bauer. "I live in both my native New Orleans and in Los Angeles, and after graduating from culinary school in L.A., I was a recipe tester for another cookbook. Then the classic desserts book was suggested and I knew I could combine some of old-Hollywood standouts with some of the most hip and trendy present day restaurants and fabulous bakeries to create a book for home chefs, as well as bring a little Hollywood to everyone."
Restaurants represented in the book include classic favorites like:

Chasen's
The Polo Lounge
Chateau Marmont Hotel
Romanoff's
And new Hollywood favorites like:

Water Grill
Patina
La Brea Bakery
Sweet Lady Jane's Bakery
As we head into spring, Chef Bauer recommends a classic Hollywood dessert for a Valentine's Day lunch, Easter or Mother's Day brunch: Grapefruit Cake from the famous Brown Derby restaurant. According to Chef Bauer, this dessert was a favorite of some of the restaurant's famous regulars like Bob Hope, Jimmy Stewart, Frank Sinatra, Lucille Ball and Cecil B. DeMille. (Recipe follows)
About the Author:
Grace Bauer was trained at the California Culinary Academy's Le Cordon Bleu program and used her background as a New Orleans interior designer, her expertise in the kitchen and love of culinary history in Los Angeles in writing "Los Angeles Classic Desserts". After Hurricane Katrina, she had many life-changing experiences including becoming a bi-coastal resident, now living in both her native New Orleans and Los Angeles. She incorporated the culture and diversity offered throughout L.A.'s many pastry kitchens and favorite restaurants when she produced the book. Photography in the book is provided by Los Angeles Photographer Allison Meyerson.
Brown Derby
Grapefruit Cake
YIELD: ONE 9" CAKE
This is one of the old Brown Derby's classic desserts. Founded in 1926, the restaurant was very popular with Hollywood's most glamorous actors during the heyday of the Brown Derby. In this recipe, the addition of crushed grapefruit to the frosting, as well as having grapefruit sections placed between and on top of the cake, offer a promise of what's within.
CAKE
1 1/2 cups cake flour
3/4 cup granulated sugar
1 1/2 teaspoon baking powder
1/2 teaspoon salt
1/4 cup water
1/4 cup vegetable oil
3 large eggs, separated
4 tablespoons fresh grapefruit juice
1/2 teaspoon lemon zest
1/4 teaspoon cream of tarter
Preheat oven to 350 degrees F.
Sift together flour, sugar, baking powder and salt into mixing bowl. Make a well in center of dry ingredients. Into the well add the water, oil, egg yolks, grapefruit juice and lemon zest. Beat everything until very smooth. In another mixing bowl beat the egg whites and cream of tartar separately until the whites are stiff but not dry. Gradually pour the egg yolk mixture over whites and, with a rubber spatula, fold them together gently until they are just blended. Do not stir mixture. Pour the mixture into an ungreased pan and bake 25 to 30 minutes, or until the cake springs back when lightly touched with a finger. Invert the cake on a rack. With the cake remaining in the pan, allow it to cool. Then run a spatula around edge of cake and carefully remove it from the pan. With a serrated knife, gently cut cake in half horizontally to create two layers.
GRAPEFRUIT CREAM CHEESE FROSTING
12 ounces cream cheese
2 teaspoons fresh lemon juice
1 teaspoon grated lemon zest
3/4 cup powdered sugar, sifted
2 tablespoons crushed grapefruit
3 – 4 drops yellow food coloring
2 cups well drained grapefruit sections
Allow the cream cheese to soften at room temperature; then beat until it is fluffy. Add the lemon juice and zest. Gradually blend in the sugar. Add the food coloring and beat the mixture until everything is well blended. Crush a sufficient amount of grapefruit flesh to fill 2 tablespoons and blend them into the frosting. Spread some of the frosting on the bottom layer of the cake and top with grapefruit sections. Place the second layer atop the first and spread more frosting on the top and sides until they are covered. Garnish with the remaining grapefruit sections.
###