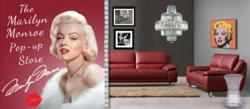 Having the Marilyn Monroe collection on HomeSav is very exciting and will allow fans to purchase Marilyn inspired items at an affordable price
Toronto,ON (PRWEB) January 23, 2012
Today, HomeSav.com, a Canadian, private online shopping club focused on designer home décor, furniture, and luxury lifestyle products, announced today its partnership with Authentic Brands Group, an intellectual property corporation with a mandate to acquire, manage and build long-term value in prominent consumer brands. This partnership will include a two week long pop-up sale with items hand selected by our expert buyers to bring you an exclusive Marilyn Monroe inspired collection.
Online pop-up sales are sales or stores that pop-up for a limited time where the items are only available on line. HomeSav.com pop-up stores feature interesting companies or our favourite designers, in classic HomeSav.com style, everything is up to 80% off retail.
The Marilyn Monroe pop-up sale on HomeSav.com aims to highlight home-related products specifically for Marilyn fans. The sale starts today and will run for 14 days. "Marilyn Monroe occupies a one-of-a-kind, iconic position in film history and American culture." said Allan Fisch, HomeSav.com's CEO. "Having the Marilyn Monroe collection on HomeSav is very exciting and will allow fans to purchase Marilyn inspired items at an affordable price ." The sale will include Andy Warhol prints, mid century furniture, photos of Marilyn and crystal chandeliers inspired by Marilyn, all at affordable prices.
About HomeSav.com:
HomeSav.com is inspired living at up to 80% off every day! HomeSav.com is a leading flash designer sales site in the home decor and furniture market. HomeSav.com launches new sale events each morning introducing new brands and their products. HomeSav.com takes the guess work out furnishing and buying product for your home, and adding the fun back into your decor shopping spree. HomeSav products include home decor, furniture, art, kitchen, outdoors, gadgets, seasonal, and family related luxury home accessories. If you are interested in becoming a vendor or partner please contact amanda(dot)parker(at)homesav(dot)com.
Membership is free and shoppers can register at http://www.HomeSav.com.
About ABG:
Authentic Brands Group, in partnership with Leonard Green & Partners, is an intellectual property corporation with a mandate to acquire, manage and build long-term value in prominent consumer brands. With offices in New York and Toronto, ABG's mission is to acquire and manage iconic consumer brands in apparel, sporting goods, action sports, home, celebrity, entertainment and consumer electronics and enhance brand equity through best-in-class brand licensee and direct-to-retail partnerships. ABG holds Marilyn Monroe, TapouT, TapouT MPS, TapouT Pro, TapouT Vintage, Silver Star Casting Company, Iron Star, Hitman Fight Gear and Sinister Brand. http://www.authenticbrandsgroup.com
Media Contact:
Amanda Parker
Public Relations and Media Manager
amanda(dot)parker(at)homesav(dot)com
647-260-4993 ext 107
# # #