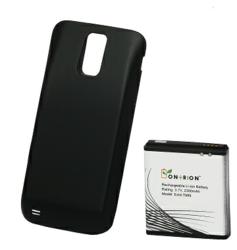 Let's Embrace Green in Life
Dallas, TX (PRWEB) January 23, 2012
In its effort to maximize the power-up time of all the major smartphone brands, OnTrion has added a Samsung T989 extended battery with door to its lineup of standard and extended mobile phone batteries. The newest addition is designed specifically for the popular T-Mobile Galaxy S II model to double the power its standard battery provides. Additional information about the newly debuted OnTrion Samsung T989 Galaxy S II extended battery with door can be found online at http://www.ontrion.com.
Several reviewers on the Samsung website have called out the T989 standard battery as the Galaxy S II's one and only downside. In their reviews of the smartphone, many have pinpointed the battery life as their sole gripe. In particular, they called it "very weak" and "poor."
A veteran manufacturer of standard and extended batteries for all the major cell phone providers, OnTrion has found a way to improve this design flaw. In quality assurance tests, the OnTrion OEM-quality Samsung T989 extended battery with door was found to approximately double the power the Galaxy S II's standard battery supplies.
For more information on how to take a good T-Mobile Samsung Galaxy S II experience to great by maximizing the smartphone's battery life, contact Jesse Khurana toll-free at (877)676-0877. For additional product information, visit OnTrion online at http://www.ontrion.com or http://www.facebook.com/ontrionbattery.
About OnTrion
OnTrion is a veteran manufacturer of branded mobile phone batteries, chargers, Bluetooth and other mobile accessories. The OEM-quality batteries the company produces come in both standard and extended varieties and are compatible with all the latest smartphone models. OnTrion is committed to providing its customers and distributors with the highest-quality products and services, thereby instilling 100% trust, faith and satisfaction in them. As such, innovation, ruggedness and exceptionality are the cornerstones behind every OnTrion product.
CONTACT INFORMATION:
Jesse Khurana
13650, TI Blvd., Suite #309
Dallas, TX 75243
(877)676-0877
http://www.ontrion.com
###